Packaging and Accessories:
As mentioned, the loaner unit I received was the Mickey 90th Anniversary watch, but their standard offerings come in blue and pink. The unit comes in a full color box that is wedge shaped with a picture of the device on the front. The back lists the contents and provides a few features you can expect to use.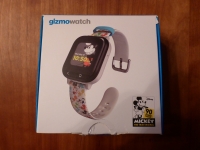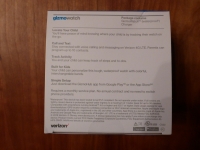 Lifting the front cover reveals the watch. If you remove the watch you can flip this cover up to reveal the charging cable, AC/DC adapter, and some literature. This provides you with all you need to get started.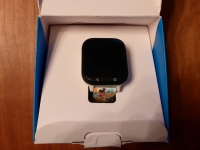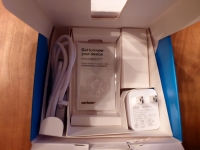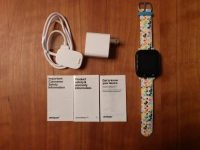 The Basics:
This watch appears smaller than it is, which I think this is due to its rounded edges. But the reality is it is basically the same size as the TickTalk 3. This watch also uses a slightly wider band than the TickTalk (18 vs 20mm) and the design is different as well. The GizmoWatch uses a more traditional band with several holes and a clasp. On the front there are two buttons, one for power and one to go back. Flipping the watch over you see the four contact points for the charger.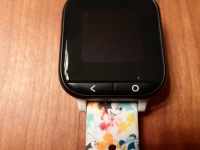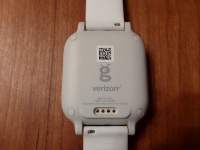 The charger itself is made up of two parts. First there is a charging base with magnetic locator and attached USB cable. This cable can be plugged into any USB port to charge, or into the included adapter which has a 5V 1.2A output.