I had been receiving emails for quite a while from
Rocketbook
's PR, but recently I noticed a new name in the mix, the Rocketbook Everlast. If you are not familiar with Rocketbook, they make reusable notebooks and originally came out with the Rocketbook Wave. While the Wave's concept of using a microwave to erase your notes is pretty cool, it does have a limitation of 5 uses per page and well of course you need a microwave. Then they came along with the Rocketbook Everlast. This promises unlimited uses and simple erasing with any damp towel so long as you use the right pen.


Below is a brief description of the product from their website and a few limited specifications.
Features and Specifications:
The Everlast notebook provides a classic pen and paper experience, yet is built for the digital age. Although it feels like a traditional notebook, the Everlast is endlessly reusable and connected to all of your favorite cloud services. When you write using any pen from the Pilot Frixion line, your writing sticks to Everlast pages like regular paper. But add a drop of water… and the notebook erases like magic.
» Letter Size: 8.5 in x 11 in / 32 pages
» Executive Size: 6 in x 8.8 in / 36 pages
» Dot grid pattern on each page
» Pages are erasable with a moistened cloth
» Infinitely reusable
» Includes 1 Pilot FriXion pen
Packaging and Accessories:
After reaching out to Rocketbook they sent me the Executive sized Everlast to try out, so while the packaging could be different between the two sizes, I suspect they will be about the same. My Everlast came in a strange Mylar bag. What I found odd was there appears to be a tear notch about half way up the long sides, but it also has a zip lock strip at the top. Not sure I would have any use for this bag, but I found it odd that someone paid extra for that reusable seal, but they misplaced the tear notch.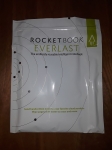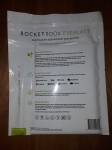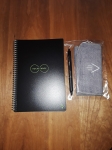 Other than that the packaging is pretty simple; the front includes the product name and mentions that is a "smart" infinitely reusable notebook. The back provides a bit more detail on how erasing is accomplished and mentions the "smarts" by providing info on the integrated cloud connectivity options. It also mentions that it contains a Pilot FriXion pen, which is key. This is the ink the notebook is designed around and allows you to take notes yet effectively erase them later. Also included is a small high quality micro fiber towel to erase your notes.