Conclusion
The
Ring
Stick Up Cam is not the sexiest device, but it is feature packed and works very well. The narrow FOV does make mounting a bit tricky, but the image quality is generally very good (although I would prefer to see a resolution of 1080p for a security camera). The night vision is acceptable, but is limited to about 20 feet. One of the best features is the accurate motion sensing and its wide 180 degree sensing range. This allows the camera to stay in a low energy state as long as possible, but still capture what you need. And while I didn't get a chance to test this with Ring and Ring + devices; the ability to do so makes this a great security/automation tool.


At
$199 at places like Newegg
, I am not sure if this device has enough value compared to other battery operated cameras that have higher resolution and that are more or less the same price. What sets this camera apart though is the optional solar panel that runs an additional $49. This really is a game changer. Using this panel you can now mount the camera in places that were too inaccessible before.
With a total invest of $250 and $30/yr it is an expensive device, but I can't think of anything else that offers you this much flexibility and lack of maintenance. So if you are in the market for a wireless camera and can justify the annual cost of cloud monitoring; this is certainly worthy of serious consideration.
With all things considered, the Ring Stick Up Cam and Solar Panel earn the Bigbruin.com "Great Idea" award.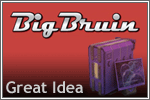 Pros:
» Long battery life made longer with solar panel
» Weatherproof design
» Accurate motion sensing
» Well functioning app
» Integration options with Ring and Ring + devices
» 1 yr parts/lifetime theft warranty
Cons:
» 720P and 80 degree FOV
» 2.4GHz WiFi only
» $30/yr or $3/mo to maintain cloud recording
» Possible issues with WiFi in the cold
Please drop by the Bigbruin.com Forum and feel free to post any
comments or questions
.