Performance:
The Ooma Home Security system comes with a multitude of different settings, rather than covering them in the initial set up section I am opting to touch upon some of them in the performance section to describe how they actually function in day to day use.
First from the dashboard, you can select any of the devices on your system to see its current status state, tamper indication, battery and connection strength as seen below. Using this connection strength I attempted to find out the range of these devices and found that despite not utilizing a mesh network I was able to get these further away than I expected. I have no doubt these can work 150 feet from the hub, I was about 100 feet away through one interior and one exterior wall and signal strength was still good and door switches changed state quickly. In fact this switch can operate out by my pool where ZigBee and Z-wave do not even with a repeater between. Below the status you can elect to get notifications about tampering. But the notification can only be seen in the app, it simply shows a red hand in the device tile as shown below. I do wish you could configure this to send a push notification or something else.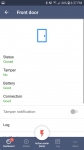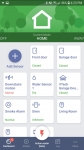 Below that you can see a log of events which appears to be complete but often slow to load. Under that you can configure your notifications. What I especially liked about this is they allow you to customize notifications for each mode. So you could opt to get no updates when your home but get them in the other (4) modes. This can be set for each sensor and in each mode you can choose between push notifications, base announcements, phone call, email, SMS or set cameras to record. Overall I was able to get all of these to work with one exception, the SMS. But I am chalking that up to a Google Voice issue since I have had trouble with GV and other SMS services in the past.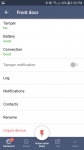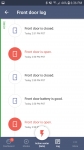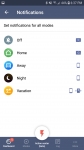 Under Modes you can enable geofencing and scheduling. Just below this you can tweak the settings of each. Initially I had no luck getting the geofencing working. Despite having this enabled and verifying the home address it always had me showing as away. On this same mobile device I was able to have geofencing working on other services, so this wasn't an issue with the mobile phone. But ironically I changed phones and found that a Motorola phone worked as expected. Honestly I am not sure if this is some glitch with Samsung phones or if they just made an update to the system right around when I changed mobile devices. I do like that you can pick what mode you want it to enter when you leave and when you return. You can also customize which devices participate. Now that I am using the Motorola phone this feature works as expected. The scheduling allows you have the system change modes at preset times. I did try this and while it worked I prefer the modes be controlled by presence detection or geofencing since our schedule is quite random. Another cool feature is the ability to create your own custom mode. For me the existing modes are more than sufficient but it is nice to have the ability to fine tune things based on your needs.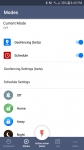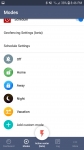 Dead center along the bottom you'll find the Action Center. This provides you with a log of everything that happened in your home and allows you to sound the alarm or call 911. While I never tried calling 911, I have faith that this works since Ooma did start as a VOIP service that can handle 911 calls. While I really don't want to get in trouble for making a false alarm; I did try the siren and it did allow me to remotely trigger the alarm horn. Initially this only worked about 50% of the time. Sometimes when you go to this screen the siren button was grayed out. In all fairness it does say Beta and things have gotten better lately; but I would have hoped these things were a bit closer to complete than they are. Also the volume of the siren seems a bit anemic compared to my battery powered unit I have connected to another hub. While that siren is enough for my entire home I think I would need at least two of these to equal the sound level.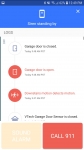 Selecting Log along the bottom brings you to the same log that you can access through the Action Center. Selecting a video clip will pull the clip and allow you to play it back. Playback was relatively quick and smooth, any choppiness can be attributed to either the mobile network I was on or crappy Wi-Fi.
Finally under More, you will find several more settings. First is Contacts; this allows you to add contacts and test connections to each on via phone, SMS and email. Under that you have a third place to adjust sensor notifications. While this worked, I really do prefer just having things in one place. Sometimes it gets a bit confusing and you wonder if the settings are all the same or not. Under that you have System Settings. Here you have sliders for various push notifications like geofencing, mode changes, batteries etc. but you can also set grace periods for arming and disarming. One really nice feature is the auto silence of the siren. Default is set to 15 minutes which seems reasonable and not likely to annoy your neighbors if you happen to be away when the system goes off.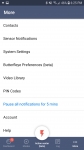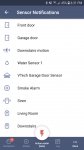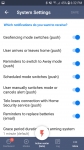 Also under More you will find settings for the Butterfleye camera account. Here I was able to change the time to record to anything between 10 and 60 seconds, but it appears to do nothing. Even when set to 45 seconds the cameras still record anywhere from 15 to 20 seconds. But I was very happy to see that faces trained on my original camera are shared to the new camera. While this is a great start I still find this AI to miss faces about 50% of the time. It really is strange because I have seen these cameras miss faces front and center, but somehow pick out a face through the slats of a railing. Just no real rhyme or reason to when it seems to work. Under this is the Video Library and so far all I get are errors indicating "Such user does not exist."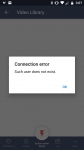 The motion sensor is much like many other motion sensors. It is very sensitive. I have never had much luck with these sensors since they are not typically adjustable, so for me these are always relegated to vacation mode. I have tried using them as a trigger for away mode but I find even small pets tend to trigger them so my only real use for them is on vacation when every living creature is out. But this would be good for triggering say a light when you enter a room. The only issue is they do not currently offer a smart outlet. Hopefully this will come in the future as this platform matures.
Thankfully I never had a fire so I didn't fully check out the smoke detector, but I was able to simulate an alarm by pressing the test button and I did receive a quick push notification. The chirp heard during the test sounds like any other fire alarm. I do wish that rather than making a smoke detector they offered a device to listen for the smoke or carbon monoxide alarms to create an alert that way. I like many have several hardwired devices, so it isn't practical to replace them all but one or two listening devices would be. Maybe this is something they will add in the future.
The vtech garage door sensor simply works. It might not be flashy but it gets the job done. Having this sensor in their portfolio allows you to monitor all of your entry points to your home and configure the alerts to suits your individual needs.
The water sensor is a nicely designed piece. I like how they provided a hole in the head to permanently mount the probes. This is a great idea given how light these remote head sensors are. Just a simple bump of the wire can drastically change the position of the head and even flip it over which means you'll need a lot more water to trigger an alert. This device does handle alerts a bit different than lost devices I have used; it waits about a minute to change state. After having about a dozen LeakSmart sensors scattered around my home I can see where this could be an advantage. With those sensors the instant the contacts see water the main valve shuts and the siren goes off. Sounds great, unless you have an 8 year old who is a little sloppy washing his hands or brushing his teeth. This device could differentiate between a real flood and a splash. But with that said I do wish they had a device like the LeakSmart to close the main valve to the house. Knowing you have a problem is good but if you are an hour away at work you will feel quite a bit of anxiety on your drive home wondering what you are going to find. Finally, they mentioned that this device can be set to trigger dry to wet or wet to dry. But I don't see anywhere to change this setting. Maybe this will be a future feature; I hope so as I can see several uses for this like fish tanks, pools etc.