Conclusion:
The
ICY DOCK
ToughArmor MB991U3-1SB is not quite your typical USB 3.0 enclosure, and I like it. I can see plenty of applications for a tougher, 'enterprise-grade' device that could benefit people at work and at home. In a business setting I can see the tougher design being useful for a road warrior that perhaps isn't just sitting in a cubicle with their external drive. Additionally, the hot swap capabilities of the enclosure, and the ability to use that same drive tray in other internal / external ICY DOCK products could prove to be quite useful. Perhaps you take a backup of all the files on your desktop or server when you are out of the office, but still want access from your laptop. Just pop the drive tray out of your compatible ICY DOCK rack, and pop it in to the MB991U3-1SB.
At home, I think I would much rather use this enclosure in instances where I think my drive might get knocked around a bit... Like for use in the glove box of my car with the portable media streaming device we take on road trips. Or, theres my buddy with the outdoor project that streams movies from a flash drive. He needs more storage, but he being outdoors - on a patio - around kids and pets, demands something that isn't going to get roughed up easily. If there ever was a drive for that situation, this may be it.


Overall I am very pleased with the ToughArmor MB991U3-1SB. It is well built and performs as expected. The only downside is that it is one of the pricier external enclosures I have seen. Amazon and
Newegg Business hav it for about $66
, which makes it more expensive than many 1TB to 2TB USB 3.0 drives, and at that price you still need to buy a drive to put inside. There are even some "Armored" enclosures with drives in them available for less, such as Silicon Power's 1TB Armor A30 which sells for under $60. With that Silicon Power unit in mind, the only thing worth paying a premium for is the removable tray feature. But even there, you will either need to buy another ICY DOCK rack to make switching between systems an option, or you will need to buy more drive trays to make swapping out multiple drives with one system an option. Additional drive trays will set you back about another $20.
If it weren't for the price I would be very excited about this product, but in the end the design and performance help the
ICY DOCK
ToughArmor MB991U3-1SB 2.5 inch USB 3.0 enclosure earn the Bigbruin.com "Recommended" award.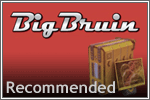 Pros:
» Solid construction
» Hot swappable (must buy additional drive bays separately)
» USB 3.0 compatible
Cons:
» $66 (US) for just an enclosure
» Additional drive trays are close to $20 each
Please drop by the Bigbruin.com Forum and feel free to post any
comments or questions
.