Wireless charging has been around for quite a while, but it hasn't had much market penetration. This is starting to change as more and more mobile devices offer it, and most support some version of the Qi standard. While there are numerous options out there for home chargers, the field for automobile chargers has been a bit more limited. Recently I received a press release for a new charger by
Lynktec
called the Bolt Smart Car Mount & Qi Wireless Charger. I was intrigued by the design and apparent ease of use so I reached out and they sent one our way.


From Lynktec's site: We are a Chicago-based company developing unique, tech savvy products that fundamentally improve the experience people have with their mobile technologies. We continue to win the hearts of our loyal customers with our feature rich, award-winning product lines and our 5-star customer service. Mobile productivity comes back to life at Lynktec.
Features and Specifications:
So while the Lynktec Bolt Smart Car Mount & Qi Wireless Charger may not be the first to incorporate a charger and an auto mount, it was the first one I ran across that offered what I would consider a truly smart mount. This mount has automated arms; when you want to open it you simply swipe near the prox sensor on the top, then it will automatically close when you place a phone on it. It includes a battery back-up so this functionality even works with the car off. The Qi certified charger is optimized to work with Apple and Samsung fast charge devices.
» Automatic lock & unlock with one touch release
» Qi certified fast wireless charger (7.5 & 10W)
» Adjustable stand for 4" to 6.7" devices
» Rotates from portrait to landscape mode
» 250 mAh backup battery operates mount when disconnected from power
» Includes air vent holder, charging cable, and dual USB car charger with Quick Charge 3.0 and 2.1A outputs
» Dash & Windshield Mount sold separately
Packaging and Accessories:
The Lynktec Bolt Smart Car Mount & Qi Wireless Charger comes in a small full color box. The front shows a front and side view of the device, mentions the fast wireless charging and one touch automatic lock and unlock. The back has similar images but with a white background. Along the bottom they clearly indicate what is in the box, and they even show an optional part which is clearly marked as optional and is shown as an outline drawing so it is very clear. They also list some certifications and their 1 year warranty. The sides list a few features like auto open/close, infrared sensor, Qi charging and adjustable stand. My only real issue with the package is it doesn't clearly state what Qi fast charging is. I have seen some devices that claim to be fast and are only 5W, since this supports both 10W and 7.5W profiles I think they should have made an effort to make sure people know what this unit is capable of.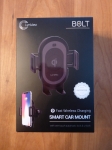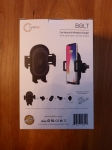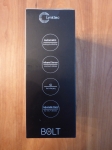 Opening the box you will find the Bolt Smart Mount neatly tucked in a plastic tray. Inside you will also find a user manual, a very high quality USB cable, the vent clip and lock for ball mount, and finally the 12V adapter. I really appreciate that they supplied the 12V adapter and a quality cable. It seems many wireless chargers are sold without the power adapter, and sometimes people have issues with the devices not charging as expected and often it is due to the power supply. Supplying this eliminates that risk. Same goes for the cable, not all cables are created equal, and some just can't transmit the current needed. It is a nice bonus that the cable is braided making it very durable, this makes me feel more comfortable routing this inside the dash to minimize exposed wires.