Conclusion:
I think we all have different reasons for wearing fitness trackers; some want to just track steps, some want to watch their sleep, and others are hoping it will remind them to keep active to hopefully lose a couple of those stubborn pounds. For me it is a little of everything. I am not delusional to think buying one of these will magically make me lose 20 pounds or make me an elite athlete, but I do think it is a good resource to help motivate you to keep moving and hopefully explain some of what you are feeling.


Overall the
Fitbit
Charge 3 Fitness Activity Tracker is a very good product, but is it worth around
$140
from places like
Amazon.com
? For me I would say yes. While there are flashier fitness trackers out there, I am not willing to strap a couple hundred dollar smart watch to my wrist and trim hedges or work on the car. You get a much more polished device than something like a Mi Band that is full of features and possibly has more to come (SpO2) in the future. In the short time I have had the Charge 3 I have learned more about my sleep and fitness than I did in two years with a Mi Band. So while the Mi Band was cheap and fairly effective, I am not so upset anymore that the sea took it away. This Fitbit Charge 3 is a much better fit for me.
Considering all of the Pros and the few Cons, the Fitbit Charge 3 Fitness Activity Tracker earns the Bigbruin.com "Recommended" award.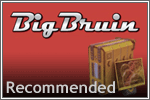 Pros:
» Good size, bright screen
» Ability to read and respond to texts
» Completely waterproof to 50m
» Sleep monitoring provides great insight
» 7 day battery life
» SpO2 potential
» Great intuitive app
Cons:
» Step counter can be easily spoofed
» Proprietary charger
» SpO2 not activated yet
Please drop by the Bigbruin.com Forum and feel free to post any
comments or questions
.