In Use:
The actual set up of the device is done through the Fitbit app which you can get at your respective store. In this case the install was done on an Android. If you already have a Fitbit you can log into your account or you can create one. Then you simply follow the prompts, selecting the Charge 3 it will automatically search for it and you will get a PIN to pair it with your device.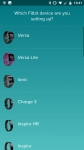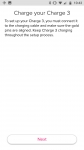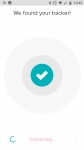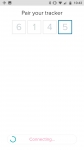 At this point the app checks the firmware on your device and if it is outdated it will alert you to run the update and keep the Charge 3 and your mobile phone in close proximity. The update took longer than I expected but I don't think it took the full hour the time stamps show, I just got tired of checking on it. Once the Charge 3 is updated, it will walk you through things like swiping up for stats, pressing the button to go back, swipe down for notifications, press and hold for quick settings and swipe left for apps. Overall the Charge 3 is very easy to use and figure out.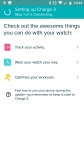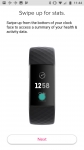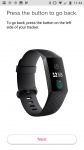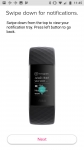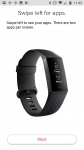 The screen on the Charge 3 is leaps and bounds better than the Mi Band2. I had absolutely no issues reading this even on the brightest day on the beach. The side button to wake the unit or navigate the menus also works great as does the touch sensitivity. Overall I am very happy with this screen with one exception, there is no protection of the screen. The screen has a slight curve to it which seems to make it more of a target than the Mi Band. Since I wear mine through all sorts of activities including yard work I opted for a screen protector. Even with this cover the brightness and touch sensitivity were great.
Comfort is going to be very subjective. While I really appreciate the well-made band with metal clasp; the extra width can make it feel awkward if you do a lot of activities flexing your wrists. I also found the wider band more likely to hold water underneath after washing my hands than some other bands. But with this said, the watch has never come loose during any activity (unlike Mi Band2) and the band still looks great after being exposed to pools, oceans and various chemicals.
The activity tracker seems to do a pretty good job of automatically logging your activities, but I did find if you are casually biking off road it sometimes had a difficult time determining if I was running or biking. I suspect the low speed and bumps were enough to confuse its algorithm. When I road faster it knew I wasn't running that fast and would log appropriately.
As mentioned above, I used the Charge 3 in my pool and in the ocean and never had any issues. It claims a 50m water resistance which should be more than enough for most people. Touch sensitivity was as expected, not great when wet, but that is not really a Charge 3 issue. I am not sure if the instructions tell you to rinse it after exposure but I never did and I have not noticed any issues after a few months of use.