Conclusion:
The
EZVIZ
Mini Plus HD 1080p WiFi home security camera offers surprisingly good performance, and the image quality (day or night) is second to none when compared to other 1080p cameras I have seen. The audio quality is also very good. You can manage your video clips in the cloud, which some people may prefer, but I like the fact that you can also record them locally. While I would prefer to have the ability to record the camera feed to a NAS or other network device, the inclusion of a microSD card slot gives me some control back. I do wish it was easier and more straight forward to download the clips stored on the microSD card. But even with this short coming it is very easy to forgive this when the camera works as well as it does.


Considering I had not heard of EZVIZ before I am quite surprised about how good this app is. I found it to be well laid out and easy to use. Add in IFTTT integration and this is a tough camera to beat. With a selling price of around
$100
at places like
Newegg
, this camera has a whole lot to offer and is well worth considering.
All things considered, the
EZVIZ
Mini Plus HD 1080p WiFi home security camera earns the Bigbruin.com "Highly Recommended" award.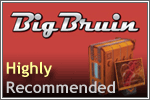 Pros:
» Some of the best image quality I have seen in a 1080p camera, both day and night.
» 1 year warranty
» Supports local recording to microSD card (up to 128GB)
» IFTTT integration
» WiFi supports both 2.5 and 5GHz
» Well laid out and functioning app
» Accurate motion sensing and easy playback
Cons:
» CloudPlay is costly
» No option to view locally other than app
» No ability to record stream to NAS or any local device but the internal microSD card
Please drop by the Bigbruin.com Forum and feel free to post any
comments or questions
.