Conclusion:
D-Link
's DIR-2660 and DAP-1820 offer a great way to start your mesh network. As with many mesh networks, this setup can be configured with a wired backhaul which would help some of the bottle neck issues I mentioned, but most people are resistant to running wires. So where this unit shines is in its scalability. You can start with just one extender or add several to cover even more area. Also a big benefit of this mesh system is having a few Ethernet ports on the router. For many this is a necessity. I also appreciated the ease of finding a good location for the DAP-1820. Not only does it provide LED status of signal strength right on the front, it also plugs directly in the wall. So this mean I was able to use a hallway outlet which was a more ideal place (signal strength) than what I could do for the COVR 2202. That unit either had to be 10 feet closer to the router or 10 feet farther. I chose the latter and it occasionally it has a poor signal and begins flashing. So there are several good things about this set up, but I think the lack of being tri-band really holds it back.


The combo price of the
D-Link
DIR-2660 and D-Link DAP-1820 comes in right around $270 which is pretty much the same price as the D-Link COVR 2202 reviewed previously. Amazon currently has the DIR-2660 for
$140
and the DAP-1820 for
$75
($100 minus a $25 coupon code on the page), bringing the total when bought separately to $215. Considering these prices, I would lean towards the COVR 2202 since I have a few network switches that I can move wired devices to since it has fewer ports, and the addition of the dedicated 5GHz backhaul made a difference in my home. But I can see where some people will be reluctant to add another device just to move to a mesh network, and in those cases the DIR-2660 and DAP-1820 will serve you well. Currently D-Link does not offer a tri-band extender in the EXO line, but they do have a router (DIR-3060) which may indicate new extenders are on the way.
For its performance and ease of use, I award the D-Link EXO AC2600 Router with EXO AC2000 Extender the Bigbruin.com "Great Idea" award.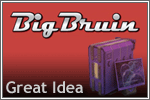 Pros:
» Good mesh performance
» (4) LAN ports
» (2) USB ports
» Great warranty
» Includes McAfee LiveSafe
» Easier to use form factor
Cons:
» Too many apps to control all features
» Would prefer a dedicated wireless backhaul
Please drop by the Bigbruin.com Forum and feel free to post any
comments or questions
.