Performance:
Just based on visual queues you would expect this router to have great signal strength due to the number and size of its external antennas. So the first thing I did was get an idea of what link speeds were being reported by AC devices in several parts of my home. As expected they all reported 866Mbps (device max) next to the routers. Moving 45 feet away on the same floor started to reveal some differences between the D-Link's and the Portal, but to be honest I suspect there was something else going on with these numbers and that was confirmed in the next location. On the second floor directly above the routers the Portal had a strong connection but both D-links were significantly less. This is even more perplexing since in the COVR review it was able to maintain 866Mbps. Honestly I can't explain what is happening here. Luckily the numbers for longer distances from the router did make more sense. As you can see the D-Links outpaced the Portal significantly on the second floor and the new DIR-2660/DAP-1820 combo was several times better out by my pool.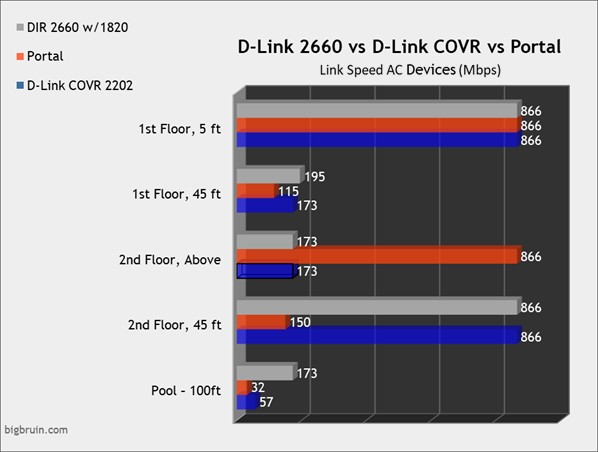 Next up we looked at the link speeds of legacy devices using the same locations. Again as we got further from the router the differences were pronounced. On the second floor about 45 feet away the D-Link DIR-2660/DAP-1820 combo was equal to the D-Link COVR in performance but was almost three times better than the Portal. Again at the pool these inter company rivals were equal but were about twice as fast as the Portal.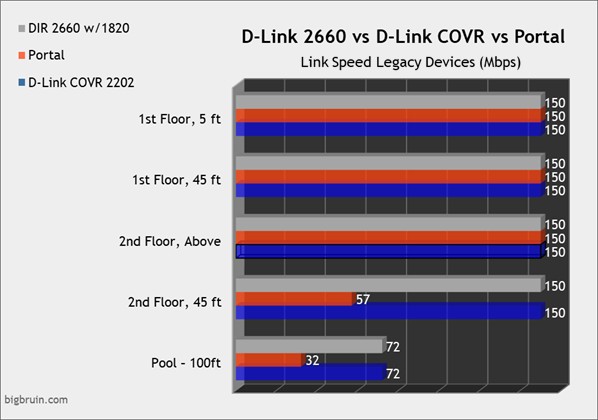 So in initial link speed testing it appears as if the D-Link DIR-2660 with a D-Link DAP-1820 is pretty comparable to the D-Link COVR 2202 we tested earlier. But what I found was that in real world conditions it just couldn't quite keep up. In all of these tests the mesh nodes were all set up wirelessly. They both have the option of do an Ethernet backhaul, but most people are looking at mesh for the simplicity of not having to run wires so this testing was done without. Running these in wireless mode reveals the weakness of the DIR-2660/DAP-1820 setup vs. the COVR 2202. The former is only a dual band router and extender while the latter is tri-band. Having this extra 5GHZ network for the backhaul ensures that the network doesn't choke when you start to really utilize that bandwidth. While I did find the DIR-2660/DAP-1820 was able to provide a better user experience for TV streaming throughout my home and easily performed better than the Portal, moving large files around while streaming did result in some buffering. This was not noted on the COVR 2202 during this testing.