Performance:
The first thing I noticed and appreciated with this device is that it doesn't block the other outlet. This makes placement around your home easier since you don't have to figure out where to rewire your other appliances, lamps, etc. The second thing I noticed is the white color just blends in. At least in my home all the outlets and switch plates are white, so this device doesn't stand out when plugged in. In fact it is about the width of the wall plate so it really does blend in.
Another nice feature is how quiet the switch is when it actuates. I have some plugs that make quite an audible click when changing state, while the D-Link can be heard, it was far less obtrusive. It is quiet enough I would feel comfortable installing one in a bedroom without fear the clicking would wake someone.
The manual on/off is very easy to use, but lets be honest the whole point of getting something like this is so you don't have to. For that you have several options. You can link the switch to Google and Alexa and control the plug with your voice, you can set up IFTTT recipes to control the device, and you can control it through the app. In general I found the voice control to function properly and I was able to connect this to an IFTTT recipe to turn on a fan when a temperature got too hot. This too worked as expected. I should also mention that while they don't list an inductive load capability for this plug it does seem to be capable of handling small motors. Hopefully D-Link will clarify this spec.
The built-in automations also worked well. In addition to the automation shown previously, I also tried a simple on at a set time off at a set time and had no issues. I really wanted to test the water sensor triggering the switch state. Overall I had no issues getting the switch to turn on when the sensor got wet.
One area of concern for me is the Wi-Fi range. At the beginning of the test I had the device in an outlet on the opposite side of the house and up a floor from the router. I was getting drop offs several times a day. Thankfully the app does a good job of letting you know when there is an issue. I have since moved it to another location closer to the router and it has been rock solid. While I do think part of the signal issue was due to my extensive use of Zigbee devices which are connected to two different HA hubs and two separate Wi-Fi networks, I have other devices in that area which are not dropping off so frequently.
Conclusion:
Overall I really like the form factor of the
D-Link
W118 smart outlet. It is far less obtrusive than the Zigbee outlets I have scattered throughout my home. It is also significantly quieter and offers great connectivity options making its use simple.


But all is not perfect. I would like to see D-Link add an option to the automations to allow the smart outlet to be cycled. For instance, when connected to the water sensor I can set it to turn a light on if it detects water. This may get someone's attention but if I were to flash the light I would be sure someone would notice. This should be something D-Link could easily add in an app update later.
What isn't easy to fix is the Wi-Fi signal strength. Again, some of this issue is likely my heavy use of the 2.4GHz spectrum, but I do think the outlet I received could be better. One thing I would like to see is D-Link update the app to show Wi-Fi signal strength in the device tab. This would allow you to fine tune your location or possibly find the other devices that are causing the most interference.
Currently this switch is selling for around
$20 on Amazon
. This is slightly more than some no name brands and about average for a brand name. If you are already in the D-Link family and are looking for a smart outlet, the D-Link DSP-W118 is a good option. It provides great interoperability with other D-Link devices and connectivity to even more through IFTTT. If you are not in the D-Link ecosystem you may want to look at some other options and see if they have more of what you need.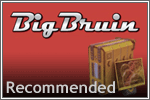 Pros:
» Great build quality
» Quiet operation
» Great form factor
» 1 year warranty
Cons:
» Marginal Wi-Fi strength
» App could use some extra features
Please drop by the Bigbruin.com Forum and feel free to post any
comments or questions
.