Over the years we have done quite a few
D-Link
reviews but the majority of these devices were their networking gear and IP cameras. But way back in 2014 we took a look at their
smart outlet
and motion sensor. Recently they sent over their latest smart outlet (DSP-W118) which is considerably smaller than the old one and their water sensor (DCH-S161) which you can see reviewed
here
. They have also added to the smart home platform an outdoor outlet, a door/window sensor and an updated motion sensor. Let's see how this new outlet performs.


Features and Specifications:
As mentioned above this outlet is significantly smaller than the old model coming in at about 2.5" x 1.5" x 1 3/8" and is more or less the same size and format as other smart outlets on the market whether they are Wi-Fi, Zigbee, or Z-Wave. This outlet is designed to be controlled primarily by the D-Link mydlink app. It is also compatible with Google Assistant, Alexa, and IFTTT. Below are some specs from the
D-Link site
.
» Compact design does not obstruct other AC outlets
» Control using the free mydlink app
» Works with the Google Assistant, Alexa, and IFTTT
» Turn your lights, fans, and other appliances on and off using only your voice
» Automatic scheduling and timers for on/off controls
» Works with your Wi-Fi - no hub required
» Energy Monitor No
» Wi-Fi Standard IEEE 802.11n/g
» Support Functions Smart remote control, Automation, Power scheduling, Alexa, The Google Assistant, IFTTT
» App mydlink™ app for iPhone®, iPad®, and Android™ devices
» Dimensions 60 x 60 x 65 / 84 mm (including prongs)
» Weight 122 grams
» Certifications CE, LVD, EN50075, RoHS
One thing not listed in their specs but is on the plug is the load rating. It indicates it is capable of switching 15A (1800W) resistive loads, but there is no indication of loading for inductive loads.
Packaging and Accessories:
The unit comes in a small full color box with an image of the product on the front and indication of the capabilities to control it through Google, Alexa, IFTTT, and the mydlink app. The back of the box has additional information about the mydlink app and how you can control the device. The sides of the box provide additional images showing layout of features, dimensional info and specifications on the devices capabilities and minimum requirements to utilize the features.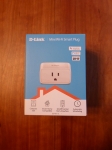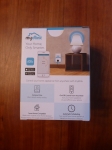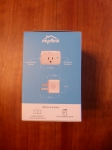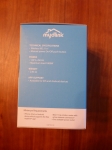 Opening the box you'll find a Quickstart Guide and the plug securely held in place by a cardboard holder.