Conclusion:
The
D-Link
DCH-S161 is a great little water sensor for those that don't currently have a home automation system with dedicated siren. The local siren should be sufficient for most people, and if not, you do have other options should you want another audible or visual alert all in the D-Link ecosystem.
The layout of the device is great for those hard to reach places, or small spots due to the relatively small sensing head and the fact it has 360 degree sensing. I could even see this being a great solution for those with sump pump pits in their home. You could simply drop this sensing head down there and get an alert on your phone and hear the local audible alert should your pump fail.


I have been a big proponent of leak sensing devices ever since my sister's house got flooded and caused huge amounts of damage. With these units selling for
$40 on Amazon
they are a little expensive compared to some, but since these can be easily integrated with other D-Link devices, and to other devices through IFTTT, you can really start to create a comprehensive leak detection system.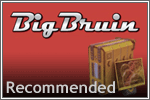 Pros:
» Local alarm
» Generous 6' long cable
» 360 degree sensing head
» 1 year warranty
» Easy automation set up in mydlink app
Cons:
» Would like to see Alexa integration
» A little expensive compared to competition
Please drop by the Bigbruin.com Forum and feel free to post any
comments or questions
.