Conclusion:
The
D-Link
COVR 2202 Tri-Band WiFi Mesh System provides very good coverage and throughput. Overall I found the COVR 2202 to be a very capable mesh network setup, but I would like to see some improvements; like individual LED control, link speed on dedicated backhaul, and to have all of the features integrated in one app. Even as it stands this is a compelling mesh set up.


The D-Link COVR 2202 is currently available for
just over $200
at places like
Amazon.com
, and at that price it is a solid deal. This is slightly less expensive than the TP-Link Deco mesh system which has a very similar feature set. With a three year warranty and five years of virus/malware protection, this is a solid offering.
Balancing all the positives with the few negatives, the D-Link COVR 2202 Tri-Band WiFi Mesh System earns the Bigbruin.com "Recommended" award.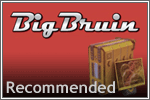 Pros:
» Solid mesh performance
» Dedicated backhaul
» DFS enabled
» Great warranty
» Includes McAfee LiveSafe
Cons:
» Too many apps
» Need better feedback on dedicated backhaul strength
Please drop by the Bigbruin.com Forum and feel free to post any
comments or questions
.