Performance:
Initially this review was going to be done by another reviewer at Bigbruin.com, but after some time messing with the device they just couldn't get consistent remote access. Often the camera would time out and fail to show an image, yet during this same time period all the other cameras on the network which were controlled by Blue Iris were immediately accessible. The camera was always accessible while on the home network so this was likely to do with some port issue. On my home network I had no such issue but I thought it warranted mentioning in case you have some complex firewall settings that may block this camera from working properly.
But with that said on my network the camera performed as one would expect. Simply tapping the icon for the DCS-8300LH would quickly bring up that feed. In my case I mounted this camera next to an older D-Link DCS-2630L (1080p 180 degree FOV) and Ezviz Mini O (720p) cameras for comparison. As you can see in the images below; the DCS-8300LH provides a great balance between the ultra-wide FOV on the 2630L and the narrow FOV of the Mini O. For some reason the colors on the 2630 are all distorted but you can see the colors seem a bit richer from the 8300LH vs. the Mini O. It could be partly due to the image being slightly darker too. Surprisingly the Mini O seems to produce sharper images than either of the D-Link cameras despite its lower 720p spec. My suspicion is that the large amount of ambient light coming through the windows on the right side is causing the camera to try to compensate causing additional noise in the images making them appear to be less detailed.
Day time view with the DCS-8300LH...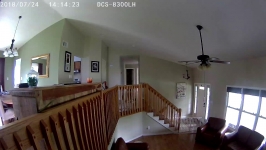 Day time view with the DCS-2630L...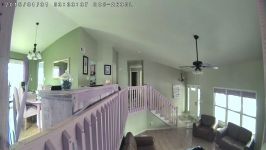 Day time view with the Ezviz Mini O...
Looking at the night time shots reveals the DCS-8300LH has very good IR capabilities. While the 2630L is slightly brighter it lacks much of the detail that the 8300LH has. With this camera you can clearly see something moving through the room, unlike the Mini O. With the Mini O you can barely see the ceiling fan and can't make out the light fixture over the front door at all. Overall I was very impressed with the IR capabilities.
Night time view with the DCS-8300LH...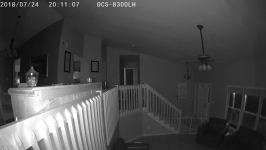 Night time view with the DCS-2630L...
Night time view with the Ezviz Mini O...