Setup:
In the past, getting D-Link cameras connected to your account was handled either by the mydlink Home app or the mydlink Lite app. Now D-Link has launched their new mydlink app, which has an updated look and feel. In my case I already had a D-Link account so I signed into the app using those credentials. After signing in I could see my existing D-Link cameras but I could not see my motion sensor or smart plug. These are still available via the mydlink Home app. But to add additional devices to your account you simply tap the menu bar in the top left and you will get a list of options. About half way down is add a device. Selecting this you are prompted to scan the devices QR code. After you scan the QR code it will walk you through step by step how to get the camera configured correctly. Below are several screen caps from the set up process.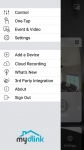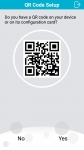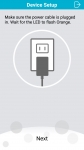 The whole setup process takes just a few minutes and you'll be up and running. Once connected to your account you can go about fine tuning your mounting position to capture the FOV you need.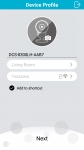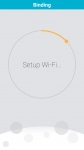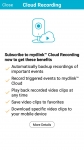 Selecting Device Settings; you will see four groups of controls. At the very top is your general device info. Here you can change the device name, location and Wi-Fi information. The second section covers Camera settings. Here you can enable the microphone, motion settings, night vision, privacy mode and camera LED. The third section is for storage only, this allows you to select between cloud and microSD card storage as well as display current cloud plan. The fourth section is quite possibly the most important. This section allows you to enable and set time for auto firmware updates. I highly recommend you set this up. In general, one of the biggest causes of someone getting access to your devices is due to having outdated firmware; staying up to date is paramount.