Conclusion
The
D-Link
DCS-2630L has very good image quality and the field of view (FOV) is simply amazing. One thing to keep in mind is that even though the picture looks great and you can see so much more of your intended target, it also implies that you effectively lose some resolution. Since this FOV is effectively 40% more than typical (130 vs 180), I would expect the local resolution to be 40% less as well. This might not be the best choice if you need to be able to pick up unknown faces going by, but if you are looking to keep an eye on a wide area then this is a great option. In fact, I would love to see an outdoor version of this camera as I think it would be perfect to keep an eye on your home's surroundings. It would also be interesting to see a 4k version of this camera some day. Then you can still have your incredible FOV but retain great resolution.


Much of my comments about D-Link's apps and web portal from other device reviews still apply to the DCS-2630L. It just seems like they could consolidate their efforts and make one really good app rather than a few somewhat mediocre apps.
Currently this camera is available for
just under $200
from places like Best Buy and Best Buy's eBay outlet. This is basically the price of a Nest cam, but when you consider this has passive infrared sensors, local recording or the ability to record your stream to a NAS or NVR, the price seems to be quite good. Then add in the incredibly wide field of view and you have a feature rich versatile camera. All while saving you from the Nest monthly fees.
In the end, the D-Link DCS-2630L Full HD Ultra Wide View Wi-Fi camera earns the Bigbruin.com "Highly Recommended" and "Good Value" awards.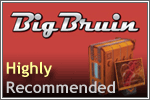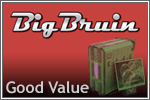 Pros:
» Very good picture quality.
» Incredible field of view
» Even manual set up through the app is easy and quick.
» App is easy to use to access your live feed from anywhere.
» Easy remote access to recorded clips or still images.
» Passive infrared sensors virtually eliminate false motion events.
» Local recording adds redundancy.
» Control over your own stream/recordings saves you monthly fees over things like the Nest camera.
Cons:
» Lose some fine detail due to wide field of view.
» Apps (mydlink Home, mydlink + and mydlink Lite) need to be merged.
» Overall they just need to make the user experience more cohesive.
Please drop by the Bigbruin.com Forum and feel free to post any
comments or questions
.