Performance (continued):
As we mentioned in our initial review; this device is primarily designed to be your personal cloud to backup photos. I am now happy to report this functionality does work. What isn't clear though is when it backs up these files. With something like Synology's DS Photo, you will see the backup process start immediately after snapping a new pic. That isn't the case with the CatDrive. Maybe this is done to keep battery draining to a minimum. It seems to run this check every few hours on WiFi. Selecting the CatDrive tab from the bottom brings you to thumbs of your backed up photos. Selecting any of the pics will give you a full screen image with a menu button in the top right. Selecting this allows you to load to Facebook and messaging apps, create a link to the file, share it between members, download, rename, and delete. Unfortunately I did not have success in using all of these features. The Get Link button will eventually give you a Success pop up. But no link was created that I can see. Going back to the thumbnails, you can select the My Photo at the top and change the directory to My Video, My Music, or All File. While videos from my gallery were loaded into this folder, it is not clear how you load other file types onto the CatDrive. Also, I am not keen on separating my videos and pictures. Often I want to review the videos with the pictures from the same event and not have to jump from folder to folder to do so.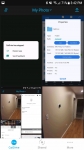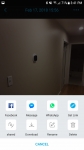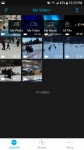 The final tab is Shared. Here you will see all shared pictures along with data on who shared it and when. I did add another member after these screen caps were taken and can confirm they were able to see only the pictures I shared. So this appears to be functional as well.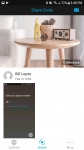 One area of concern is app memory use. As you can see in the screen capture below, after just a week of use the app folder is almost 160MB. While this is inline with how much space DS Photo is using, that app has been on the device much longer and has many more thumbnails. Clearing app data does not remove this storage but it does log you out, requiring you to get a new code to initialize your connection again. For some people with minimal storage or no microSD slot, this could become an issue.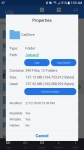 Conclusion:
In a few short weeks they have done quite a bit to clean up the app and get the basic functionality of the device working. While it may not be perfect, it does show their commitment to the product. They have also dropped the price of the unit from $149 to $99. So for about double the price of a bare drive you have a reasonably good photo storage device. I do wish they offered larger capacity units since 1TB doesn't go terribly far for a family, especially if they get the backup of music and other file types automated. Previously we could not recommend this product, but now in its current state and discounted price I would definitely say it is worthy of consideration if you need a personal cloud and don't want to drop several hundred on a full blown NAS.
Pros:
» Nice looking device
» Photo back up is working.
» Price more in line with competition
» Quality name brand drive inside
Cons:
» App still needs a bit of work but they are getting there.
» No local PC access to device.
Please drop by the Bigbruin.com Forum and feel free to post any
comments or questions
.