At a recent trade show we came across
Bond Home
by Olibra, a New Jersey based company that describes themselves with the following statement...
Olibra develops technologies designed to connect traditional household devices - like ceiling fans, air conditioners, and garage doors - to the smart home. Our flagship product, the Bond, is the first to connect both RF and IR remote-controlled devices, and it is fully compatible with voice-activated smart speakers like Amazon Echo and Google Home.
Bond Home is a device that promises to make your non-smart home devices smart, providing they are controlled by RF or IR. Using the Bond Home you can control ceiling fans, air conditioners, garage doors etc. Not only does it claim to give you full control of these devices remotely, you also can control these devices with Amazon Alexa and Google Home products.
This device is designed to control your RF devices and IR (line of sight only) by essentially becoming a universal remote. But in addition to being able to control the devices locally, it has Wi-Fi and app access to control them even when you aren't home. It also integrates with Google Home, Amazon Alexa, and IFTTT to provide additional functionality across other platforms. Unfortunately there is very little available in terms of specs for this device, but looking up the FCC filing I was able to confirm the following...
Features and Specifications:
» RF Ranges:
» 300-321.5MHz
» 336-365MHz
» 365-399.5MHz
» 410.5-450MHz
» 902.5-927.5MHz
» Bluetooth: 2.402-2.48GHz
» Wi-Fi: 2,412-2.462GHz
» 5VDC 1.0A input
» 1 year warranty


Packaging and Accessories:
The unit we received was in full color retail packaging with a picture of the device front and center, with the product name directly above. The bottom section indicates it works with ceiling fans, IFTTT, Amazon Alexa, and Google Home. The back gives a brief explanation of what the Bond can do and provides a link to supported devices. They also provide basic steps on how you would integrate this into your smart home to control a fan in just five easy steps.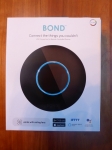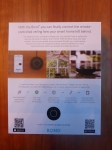 Sliding this sleeve off the box reveals a plain white box that holds the device and accessories. Under the cover you will find a card listing other products that will be supported soon, as well as a set up guide. Peeking through a hole in the cardboard you will find the Bond base station covered in plastic to avoid scratches. Flipping that cover reveals the round Bond unit, an AC adapter, and a 2 meter long USB cable.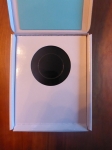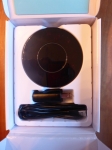 The Basics:
As you would imagine, this is a pretty simple device. The "hub" is a gloss black circle which is just under 4" in diameter and about 1" thick despite their site indicating this is 7" in diameter and 2.25" thick.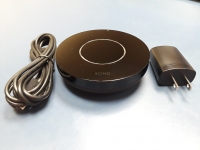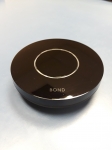 It should also be noted their cable length and weight are off as well. The cable is just over 6' and the weight is 4.4oz. Perhaps these were correct for the prototype device. The device name, "Bond" is featured in fairly small letters in flat black. The device also has an LED ring on the top face to provide visual feedback. Along the edge you will find the micro USB port for power and what appears to be a reset switch hole. The bottom of the device features a large label with product data and specifications. and you will also find several passive venting holes. The image below is from the Bond website...