A few weeks back we were at a press event and saw the
BACtrack
display for their new C8 model that features something they call ZeroLine. BACtrack is the #1 seller of breathalyzers in North America and was founded in 2001. Their new C8 builds on their past expertise by adding ZeroLine, which gives you an estimate of when you'll be sober. Turns out it might be longer than you think.


Features and Specifications:
The BACtrack C8 uses police-grade BluFire sensor technology. Their proprietary fuel cell sensor is designed to be more accurate and be more reliable long term. This sensor not only provides your estimated BAC, but also calculates how much time you will need to reach sobriety (0.000%). You can also download the free app and link the device via Bluetooth to see your results, or you can use it independently and see the results on the OLED display. The device itself is very small, in fact it is one of the smallest police-grade BAC devices available, measuring approx. 56mm x 47mm x 16mm and weighing only 2 oz. It can measure from 0.000% to 0.400%, takes about 10 seconds to warm up, and can give you a reading after only 5 seconds of blowing. The device is powered by a single AAA battery and retails for $99.99.
Packaging and Accessories:
The unit we received at the show was not in retail packaging so I can't comment on that, but from their site they do confirm what is included for your 100 bucks. For that you will obviously get the BACtrack C8 unit, (3) mouthpieces, a single AAA battery and manual. The sample I received also came in a small zippered pouch which is not included with the C8 but is included with the BACtrack Mobile.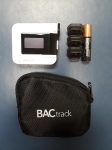 The Basics:
The unit itself is quite straightforward. On the front face there is a small (approx. 1" diagonal) OLED screen that is very clear and bright and easily readable in bright sunlight. The BACtrack logo is printed on the removable battery tray located on the bottom of the device. Strangely though I see no reference to the model number. There is a single silver button on the back edge of the device and the mouthpiece is located just above that. When you press and hold the silver button the unit powers up and a blue LED is illuminated in the sensor tube.