Conclusion:
With a price of around
$179
at
Amazon.com
, the August Smart Lock is competitive with many other smart locks on the market. I suspect the price of this particular model may start dropping soon with the release of their new Smart Lock and the Smart Lock Pro + Connect. The later looks identical to this lock but adds Z-wave Plus and comes prepackaged with the hub for $279. Even at $179 I like the simplicity of the app and that from the outside no one needs to know you have anything going on. I do wish it had more direct integration possibilities with other home automation systems, but maybe this new version with Z-Wave Plus will solve that.


There were only two issues I had with this lock. First, I really wish there was a way to set a global lock/unlock schedule. I am sure with time my parents will get more accustomed to this, and will remember to lock the door every night. But it really would be nice to have the door automatically lock every night at a set time. Finally the other issue is communication. If you only use one device with this lock it works fantastic, but as soon as you have a few devices coming and going you often are greeted with a grayed out lock. While it is fairly easy, even for my parents to reestablish the connection, I do wish this was smoother. I realize this is a limitation of Bluetooth, but I was hoping for faster reconnects. In fairness, August does have a hub which will allow you to control the lock remotely which I presume would fix the multi-user issue. I was just trying to keep this super simple for my parents and feared the hub would make things too complicated.
Overall if you are in the market for a discrete smart lock you really should look at the
August
, as it is reasonably priced, simple to install and and easy to use.
In the end, the August Smart Lock with HomeKit earns the Bigbruin.com "Recommended" and "Good Value" awards.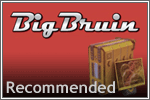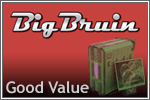 Pros:
» Smart lock that doesn't scream smart lock to passers by.
» Simple intuitive app
» Fast operation lock/unlock cycle.
» 30 day free trial and 1 year warranty.
Cons:
» Sometimes multi-users can make connecting an issue
» Not compatible with all locks
» No lock scheduling
» Minimal HA integration
Please drop by the Bigbruin.com Forum and feel free to post any
comments or questions
.