Conclusion:
Initially this August Smart Lock Pro was only available in a bundle with the August Connect and was retailing for
$279
. Currently this combo is selling for around $250 and the bare lock can be had for around
$229 at Amazon
. So if you are new to August, the combo deal is a great value at just $25 more than the lock itself.
If you are already an August user and want to upgrade, the question becomes is this new lock worth $225. In my opinion yes. The addition of Z-Wave Plus makes this lock future proof. Regardless of what home automation hub I am using in the future this lock should at a minimum have basic controls. Couple that with DoorSense's ability to confirm that not only is my lock "locked" but it is also closed and you have a huge improvement over the Gen. 2 lock.


I was also very happy to see the app improvement on auto selecting the right wireless protocol to use. This makes use of the lock much more streamlined. But finally, I am most impressed with August's customer service and warranty. As I mentioned I had some issues with my Gen. 2 lock and they replaced this lock without me jumping through hoops or getting into an argument. Quite simply it was as nice an experience as it could have been. Experiences like that don't come along often, in fact this is only the third company I can say I truly had an exceptional experience with. Because of that I would not hesitate to recommend this lock to anyone that wants to add some intelligence to their old deadbolt.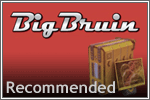 Pros:
» Easy to install
» DoorSense and alerts work great
» Z-Wave adds additional functionality and some future-proofing
» Long 2 year warranty
» Excellent customer service
Cons:
» A bit on the expensive side compared to some other alternatives
Please drop by the Bigbruin.com Forum and feel free to post any
comments or questions
.