Conclusion:
The setup of the Aeotec DSB45 was extremely easy, and within just minutes I was able to use the Wink app to confirm just how fast the sensor would alert me to wet and dry conditions. I have placed the one DSB45 by my water heater and I am already feeling a bit of peace of mind from just the ability to receive alerts about the presence of water. I will soon add a Z-Wave controlled valve to my water line to have the water cut off if the DSB45 sensor ever detects water in that area. After that, additional sensors will be added in the laundry room and the kitchen, and water damage from flooding will move way down my list of concerns.


My only wishlist item for an area for improvement would be for the sensor's mounting design. The piece of double stick tape works well enough if you have a smooth, flat surface near the ground, but it doesn't feel as secure as I would like. I will probably create something to more securely anchor the sensor's probes to the floor, perhaps by zip tying the sensor to a heavy item that can be moved anywhere on the floor that I would like. The other end of the device can either be mounted with the included screws or tape, and I feel either of those approaches would be just fine for keeping the brains of the DSB45 safe.
Searching around finds these sensors at places like
ebay
and Amazon starting at about $34 shipped. This is definitely a competitive price for a water sensor that works with Wink. A handful of other water sensors are available for a few dollars more and others are available for much more. Many of these are designed as one piece, so the whole device might get wet (and perhaps damaged) if there was a flood, whereas the brains of the DSB45 should stay high and dry.
In the end, the
Aeotec
DSB45 Z-Wave water sensor earns the Bigbruin.com "Recommended" award.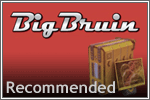 Pros:
» Easy setup and installation
» Fast response to presence / absence of water - Wink push notifications are nearly instant
» 39 inch cord lets you place the sensor where it is needed, and the brains can be placed somewhere high and dry
» Can be used to pair with a Z-Wave valve controller to automatically turn off water
Cons:
» Mounting options are OK, but you may have to get creative for some locations
» Batteries reported as being at 80% on the very first day of use
Please drop by the Bigbruin.com Forum and feel free to post any
comments or questions
.