There is a growing list of things you can do with Z-Wave devices, and one that recently caught my interest is water sensing. I recently had a whole house humidifier leak, and other than actually noticing it happen, I had no way to know it was going on. Since I had a Wink system installed in my home that already handled things like lights, garage doors, thermostats, and so on, it just made sense for me to incorporate one of the handful of water sensors available on the market in to my system.
I decided to try out the
Aeotec
DSB45 Z-Wave water sensor, shown in the promotional image below. This simple, compact device can be used to detect the presence of water or to detect the absence of water. You could therefore use it to detect spills/floods, but also to detect if water you want to have present (like maybe a fish tank) has dropped too low.


Before taking a quick look at the DSB45, let's check out some of the product information taken from elsewhere on the Internet...
Features and Specifications:
» Manufacturer: Aeon Labs LLC
» Manufacturer Part Number: DSB45ZWUS
» Brand Name: Aeotec
» Product Line: Z-Wave
» Product Name: Water Sensor
» Packaged Quantity: 1
» Product Type: Liquid Leak Sensor
» Water and flood sensor
» Able to detect 1/32 inch of water
» Supports Z-Wave Explorer Frames
» Low battery detection
» Latest Z-Wave protocol and commands
» Optimized antenna range - 300ft Z-Wave RF range (outdoor)
» Certified/Available for USA, EU and Australian markets (FCC, CE, C-TICK, ROHS)
Packaging and Accessories:
The two images below show the tiny box that the Aeotec DSB45 was delivered in. You get a good look at images of the device, as well as a handful of blurbs of how it works and what it can do for you.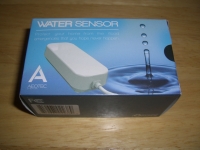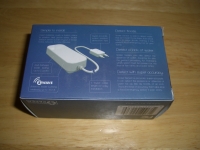 Inside the box, the sensor is protected in a form fitting foam frame, with an instruction sheet and a small bag of mounting hardware. The sensor will mount with double stick tape (the red rectangle seen in the bag), while the brains of the device / battery compartment can be mounted either by two screws or double stick tape, all of which is included.