Testing (continued):
Windows 7 Professional Boot Time:
It's a pretty simple test, really. Boot time is determined from the time the Intel 'Splash Screen' for the BIOS goes away, until the hard drive LED on the tower extinguishes. This test is repeated three times, and then averaged from the three tests. The lower the number, the faster the system boots.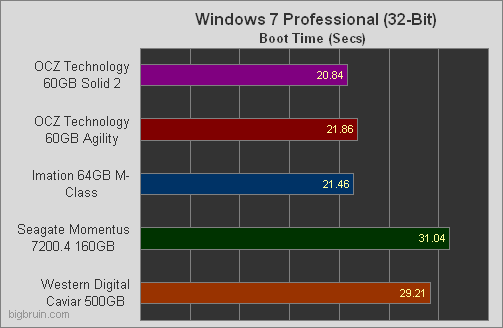 As can be seen in the chart, the mechanical drives are quite slow compared with the SSD drives. The OCZ Solid2 is the quickest SSD by a small margin, but it would be tough to judge without a stopwatch.
PassMark Performance Test v7.0:
PassMark allows for basic tests of each component, but also allows for detailed testing suited for gathering more specific data on each type of component. By using the Disk Benchmark Advanced Tests - using the settings 'Database' for 90% read / 10% write; 'File Server' for 80% read / 20% write; and 'Workstation' for 70% read / 30% write, PassMark will give more of a 'Real World' scenario than would the standard test. In this test, higher numbers equate to better performance.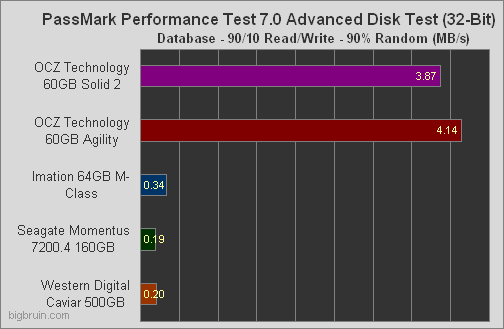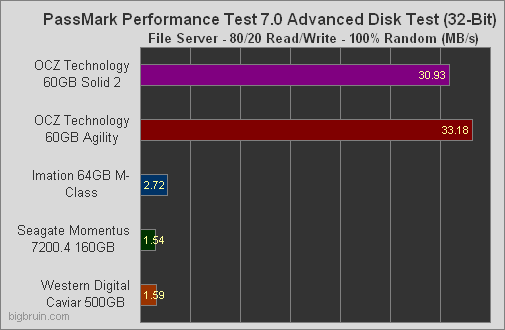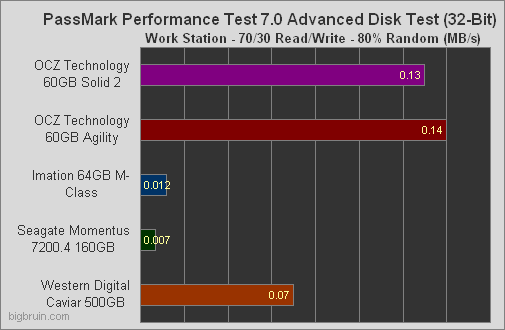 In this test, the OCZ Technology Solid 2 was just a shade behind the OCZ Technology Agility, but in the real world, a better random seek is going to be more appropriate. The Solid 2 was quite capable here, but does bow to the Agility.