Conclusion:
OCZ Technology
's new Solid 2 series of solid state drives are definitely worth considering by anyone looking for
solid
performance without spending an arm and a leg. Testing proved that the drive can live up to its published specifications (read speeds up to 200 MB/s, and write speeds up to 120 MB/s), and that it can hang with drives costing just as much, or even more.


If you haven't priced an SSD, and if you think in terms of cost-per-Gigabyte, be prepared for sticker shock here. While the 500GB Western Digital hard drive costs a trivial $0.11/Gigabyte (
$55.99 at Newegg.com
), the OCZ Technology Solid 2 60GB SSD costs about $2.98/Gigabyte (
$179.00 at Newegg.com
). While the cost-per-gig might seem extravagant, the pricing is close when compared to similar SSD products.
If you place just your programs on the SSD and let a mechanical drive do storage duties, you can really get a great deal of performance for a (relatively) low amount of money. A quick scan of Newegg's
60GB
and
64GB
(64GB drives use some of the space for firmware and other things and will show 'unformatted' as 60GB) put the Solid 2 square in the middle of the price leaders' group. While some drives rate higher in terms of read/write speeds, the OCZ Technology Solid 2 60GB SSD is spot on as far as our suite of tests show.
In the end, the OCZ Technology Solid 2 60GB SSD performs well enough to earn the Bigbruin.com "Recommended" award, and it also earns the "Good Value" award for its excellent 'bang for the buck' appeal.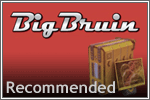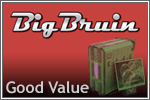 Pros:
» Good mix of space, performance, and price.
» Solid performance.
» Great read speeds.
» Good write speeds.
Cons:
» No upgrade kit to help migrate a laptop.
» Limited capacity for heavy laptop use.
» If you want noticeably better performance, you'd need to spend a LOT more money.
Please drop by the Bigbruin.com Forum and feel free to post any
comments or questions
.