Call of Juarez:
Call of Juarez is yet another 3D game to offer a benchmark for analyzing DirectX 10 performance. The results are provided in terms of minimum, maximum, and average frame rate values, and higher is better for each.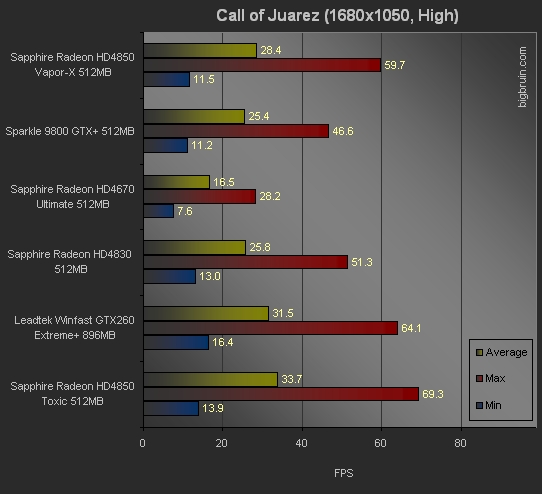 Power Consumption Testing:
For power consumption testing, a Seasonic Power Angel device was used to monitor the AC wattage drawn by the test system with the six video cards installed. Since all other hardware remained the same, any change in the Wattage would be the result of the graphics card's demands. Idle conditions were established by letting the system sit at the Windows desktop until a stable reading was achieved, and for load testing the Devil May Cry benchmark was executed in DirectX 9 mode (which seems to draw more power than DirectX 10 mode). Peak values were recorded from the Power Angel's display and recorded in the chart below.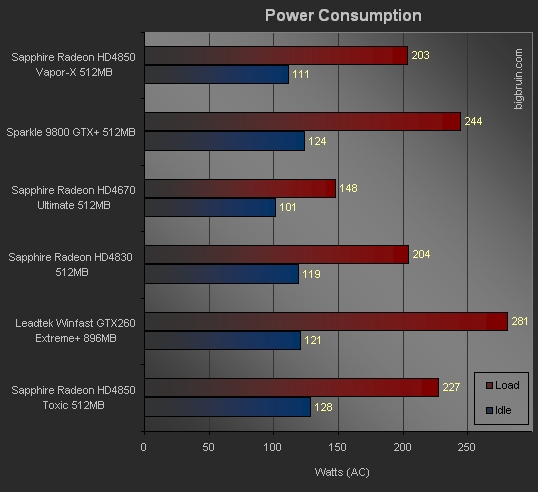 What we see is that the Vapor-X card is rather energy efficient. The only card that drew less power under load doesn't offer nearly the same level of performance. Compared to the other 512MB Radeon HD4850, the Vapor-X card offers a 24W drop in energy consumption, which is about 11%! Not bad!