The Basics:
The front of the hard drive is pretty plain with only the base providing anything important. On the front of the base there are four LEDs which indicate storage capacity. There is also a little LED to indicate power.


Both sides of the drive are identical, featuring the Seagate logo and plenty of small dots which may appear to be air vents, but they are purely for looks.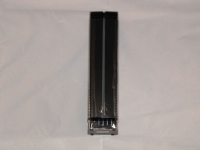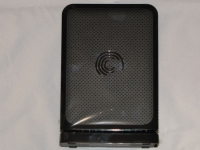 The base can be removed to allow the user to adapt the drive to their specific connection needs. Currently alternative bases include USB 3.0 and Firewire 800. With the base removed, standard SATA power and data connections are revealed on the bottom of the drive housing.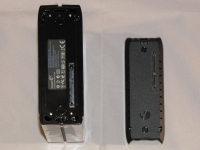 On the standard base there is both a power plug (AC adapter included) and a USB 2.0 Mini port.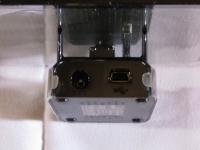 Software:
The GoFlex Desk was designed to be compatible with both the Windows and Mac operating systems. Windows uses NTFS as its file system, Mac does not. Mac is capable of reading NTFS formatted drives, however they can not write to them. Seagate has partnered with Paragon Software to include a driver that allows Macs to write to NTFS drives. This was not tested in this review as no Mac was available, however this software was previously reviewed with the
Seagate FreeAgent GoFlex
.
In addition to the Mac driver, Seagate also includes Memeo's Instant Backup. This software will back-up files located on your "C:\" drive only. In order to back-up data on other drives you need to purchase the full version of Memeo Backup. The encryption that is included with the GoFlex Desk is built into the back-up application, so only your back-up file is encrypted. Other data placed on the GoFlex is not encrypted.
The Memeo encryption on the Seagate GoFlex Desk uses 192-bit Triple DES. I am not a security expert, however from my limited understanding this form of encryption doesn't compare to AES, which is considered much more secure. However, for home use, it should be sufficient.