Conclusion:
Kingston
's 240GB SSDNow mS200 mSATA SSD (model number SMS200S3/240G) could breathe new life in to a notebook computer by offering higher transfer rates than a traditional hard drive, and with 240GB of storage space you no longer have to try to cram everything on to a tiny SSD in order to save a few bucks. Additionally, an mSATA SSD like this should allow you to go longer on a single charge, as you will use less power with an SSD versus a hard drive.


In real world use, the mS200 240GB mSATA SSD proved to be exactly what I expected. It made a notebook computer that didn't seem all that old seem so much faster and more enjoyable. The drive was capable of hitting its target read and write speeds (540MB/s and 530MB/s respectively) during the execution of benchmarks, but results will not look as impressive if the test selected uses incompressible data due to how the DuraWrite feature implemented on the mS200's Sandforce controller.
Heading over to
Amazon.com
finds the 240GB version of the
SSDNow mS200 for $199.99
, which works out to be about 83 cents per GB. While this would have been an awesome rate a few years ago, right now it is not all that impressive. Taking a look at the other capacities shows that you can get a good value, if 120GB is enough space for you. The 120GB version sells for about $86, which works out to be about 72 cents per GB. Having a look at the MyDigitalSSD BP4 which was also featured in this review shows that their 120GB version sells for about $75, while the 240GB sells for about $120. If you can find a good deal on the SSDNow mS200, I would definitely grab one, but an $80 price difference when comparing the 240GB models is pretty big.
Whatever capacity mSATA SSD you might be seeking, Kingston probably has you covered with their newly expanded mS200 line up. In addition to the 240GB unit covered in this review, you can also find them with capacities of 30GB, 60GB, 120GB, and 480GB.
Considering the performance and reputation for quality backing this device, the Kingston SSDNow mS200 240GB mSATA SSD earns the Bigbruin.com "Recommended" award.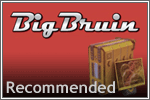 Pros:
» Solid performance in real world usage
» Able to achieve its rated speeds of 540MB/s and 530MB/s (read and write) in benchmarks
» 3-year warranty
Cons:
» Fairly expensive at about $200 for 240GB (120GB version is a better value)
Please drop by the Bigbruin.com Forum and feel free to post any
comments or questions
.