Kingston
offers an extensive selection of memory for just about any computer system, but if you are an enthusiast looking for the ultimate performance, their HyperX line may be all you need to consider. Even within the HyperX line there are a variety of options, with memory modules offered to appeal to enthusiasts with different goals in mind. In this review we will be checking out a DDR3 memory kit from the HyperX T1 series; intended for serious overclockers looking for rock solid performance well above the typical 1333MHz or 1600MHz speed ratings.


The promotional image above shows what this kit includes... Four 2GB memory modules sporting blue heatspreaders with an aggressive 'fin' design. Before taking a closer look at the HyperX T1 8GB (4 x 2GB) 2133MHz DDR3 memory kit provided for review, let's take a closer look at some of the features and specifications found on the
product listing page at Newegg.com
.
Features and Specifications:
» Brand: Kingston HyperX
» Series: T1 Series
» Model: KHX2133C9AD3T1K4/8GX
» Type: 240-Pin DDR3 SDRAM
» Capacity: 8GB (4 x 2GB)
» Speed: DDR3 2133
» CAS Latency: 9 (9-9-9-27)
» Voltage: 1.65V
» ECC: No
» Buffered/Registered: Unbuffered
» Multi-channel Kit: Quad Channel Kit
» Manufacturer Warranty
» Parts: Lifetime limited
» Labor: Lifetime limited
The published information calls this a "quad channel kit", which I suppose could be true, but what we're actually going to call it and test it as is a dual channel kit.
Packaging and Accessories:
The box that the HyperX T1 kit arrived in is anything but retail friendly... Just a plain brown box. I initially assumed the packaging was preliminary, but checking the listing at
Newegg.com
shows the same setup. The only distinguishing marks on the box are found on a small white label, shown in the below right image, which details some of the kits specifications.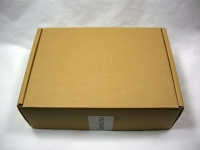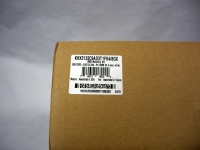 Inside the box we find the four memory modules, as well as some documentation, and one of Kingston's HyperX RAM fans. The memory modules are packed in pairs, so you receive two plastic cases which each effectively contain their own dual channel 4GB kit.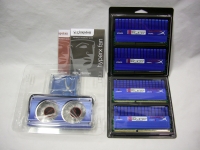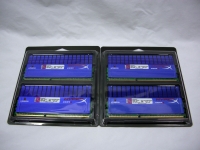 Taking a closer look at the RAM fan indicates that some assembly is required. When assembled, the two LED fans sit above the memory modules, supported by two legs that clip to the memory socket latches, and power is provided by a single 3-pin connector.