Noctua NF-P12:
Next we have the
Noctua NF-P12
. This fan has the same light tan and dark brown color scheme as the NF-F12 PWM and all other Noctua fans. This fan shares the color scheme of it's brothers, but has a couple obvious difference. The fan has 9 blades instead of 7. Whether or not the extra blades make a difference in performance will be shown in the testing, but the 9 blades do look impressive in the pictures below.
The speed control for this fan is also different, and here you have manual control which is determined by placing an adapter in between the power and the fan itself. You get an LNA (low noise adapter) and an ULNA (ultra low noise adapter), which can take the fan from 1300RPM to 1100RPM to 900RPM, respectively. Again, we'll see the difference if this does or doesn't make in the testing.


As shown below, the packaging for this fan was also standard. The front of the package is fairly standard with a small window showing the fan and the model and manufacturer displayed with a few highlights of the design.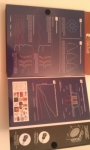 The back of the packaging has a single foldout giving the specifications for the fan and a brief summary of the upgrades from the prior version of the model. The Flex technology is highlighted and the information continues onto the back of the package.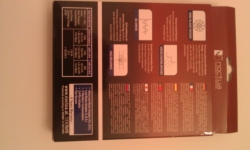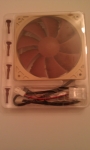 The interior packaging is standard and the fan comes with screw less isolation mounts, screws, and adapters for different power sources, and a Low noise adapter and Ultra Low noise adapter both of which reduce the maximum speed of the fan in order to reduce the already low noise output.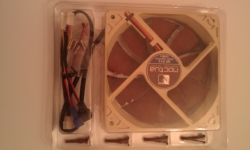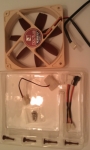 And here we see all the features and specifications, as provided by the Noctua website, where they describe this fan as being specially designed to be used on a CPU cooler, where it provide 'superior' air pressure and flow.
» Size: 120x120x25 mm
» Bearing: SSO-Bearing
» Blade Geometry: Nine Blade Design with VCN
» Rotational Speed (+/- 10%): 1300 RPM
» Rotational Speed with L.N.A. (+/- 10%): 1100 RPM
» Rotational Speed with U.L.N.A. (+/- 10%): 900 RPM
» Airflow: 92,3 m³/h
» Airflow with L.N.A.: 78,5 m³/h
» Airflow with U.L.N.A.: 63,4 m³/h
» Acoustical Noise: 19,8 dB(A)
» Acoustical Noise with L.N.A.: 16,9 dB(A)
» Acoustical Noise with U.L.N.A.: 12,6 dB(A)
» Static Pressure: 1,68 mm H2O
» Static Pressure with L.N.A.: 1,43 mm H2O
» Static Pressure with U.L.N.A. : 1,21 mm H2O
» Input Power: 1,08 W
» Input Current: 0,09 A
» Voltage Range: 12 V
» MTBF: > 150.000 h
» Scope of Delivery
» Ultra-Low-Noise Adaptor (U.L.N.A.)
» Low-Noise Adaptor (L.N.A.)
» 4 Vibration Compensators
» 3:4-Pin Adaptor
» 4 Fan Screws
» Warranty: 6 years