When it comes to cooling your computer system, there are an overwhelming number of options out there. Once you know what size fan you need, you are then still faced with the challenge of choosing one with the proper performance characteristics, noise levels, accessories, and styling to suit your needs. While we couldn't possibly cover even a fraction of the fans on the market, in this article we are going to compare five 120mm fans to see which one is the superior fan for keeping you computer both cool and quiet.
We will be taking a look at the DB-122 and DB-125 from
Kingwin
, as well as the NF-F12 PWM, NF-P12, and NF-S12B FLX from
Noctua
.
Kingwin DB-122 and DB-125:
The DB-122 and DB-125 are twins in everything, but style. With a red frame and black mounts the DB-122 from Kingwin is the brightest colored of the fans in this roundup, while the black frame and white mounts of the DB-125 cut a more standard figure. However, as the bright white LEDs are standard to both fans, and the primary thing to be noticed when they are installed, the red and black schema doesn't earn the DB-122 any bonus points in this competition.


As shown below, the packaging for both Kingwin fans is simple and there are no accessories included that aren't part of the fan's power cabling. The back of the packaging simply shows the manufacturer's specifications for the fans, and interestingly enough doesn't exactly match the website. I have used the website figures in the listing later as they should be more up to date. The cabling does allow for nearly any power source to be used, but the fans are only mountable with the screw-less isolator mounts already attached. The mounts are reversible to allow for mounting the fans in either direction, but they require a bit of force to remove and replace.
The Kingwin DB-122 packaging...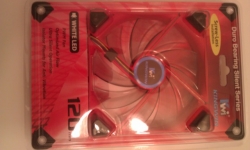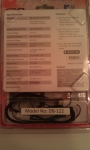 The striking red frame of the DB-122, with the black screw-less isolator mounts in each corner...