Zalman CNPS10X Quiet:
First up we have the
Zalman
CNPS10X Quiet. The stock image below is a perfect representation of the cooler. Its bright blue banded heatsink fins and clear fan fins add to the overall theme of the unit.


The CNPS10X Quiet is based on the same design as the
CNPS10X Performa
that we recently reviewed. Zalman is known for providing great cooling and quiet operation, and we'll be expecting exactly that with the CNPS10X Quiet. In the below left image you can see that it arrived in typical, high quality Zalman retail packaging. The cutout shows you the Zalman CNPS10X Quiet branded fan. In the below right image you can see the back of the package. Listed here are the key features of the cooler, its processor compatibility, and a stock image.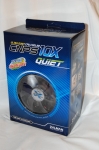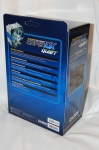 The next series of images show you what comes in the box. In the below left image mounting brackets for socket 1336, 1156, and 775, as well as the AMD mounting clip. In the below right image we see the accessories, which include two sets of screws, four spacer washers, four mounting nuts for the socket 1156 mounting bracket, a tube of high quality thermal compound, the famous Zalman Fan Mate 2 (fan speed controller), some double-sided tape for mounting the Fan Mate 2, and a spiffy Zalman case badge.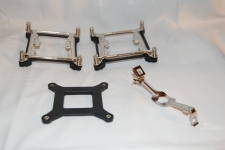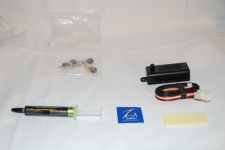 Now let's get to the actual heatsink. The first image below shows you how well Zalman has machined the copper base. The reflection is so clear you can read the reflection of the letters from the battery placed on it. The below right image shows you a top down view of the unit. The top fin is embossed with the CNPS10X and Zalman logos, and you can tell how densely packed those 5 heatpipes really are. This is also a good angle to see how big the cooler is compared to the size of the 120mm fan.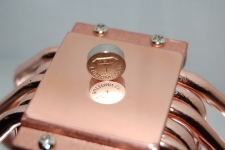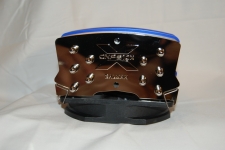 Now it's time to install and mount everything into the case. The below left image gives you a pretty good idea of the size of the unit and the clearance you have around the memory and various other parts. We didn't run into any real issues when mounting the CNPS10X Quiet - except that you can see in the image on the right that we had to turn the heatsink to blow up instead of out the back of the case due to some clearance issues with our PCI Express video card.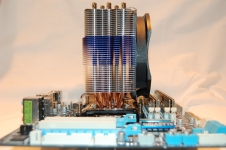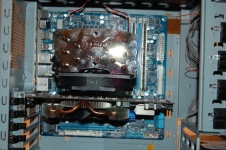 The Zalman CNPS10X Quiet can currently be found online for about
$60 (US)
from places like Amazon.com.