Let's face it - many of us are addicted to caffeine, and I like many get this fix from coffee. Sometimes it is to get us going in the morning, other times it is to keep us going late at night while we are messing with our new tech toys. For several years Keurig and other single serve brewers have been the staple for many people. These brewers have become popular because they are extremely convenient and make a very consistent cup of coffee without the hassle of brewing a whole pot. While it might not be as strong as other methods, the convenience typically makes the trade-off acceptable.
But what if you didn't have to have a trade off with your single serve brewer? Recently we received a Remington iCoffee Opus with SpinBrew for review. This single brew machine claims to brew a better cup of coffee by using a rotating needle to better utilize the grounds in the Kcup. To assess these claims I decided to compare this head to head with a Keurig K550 2.0.


Features and Specifications:
As mentioned in the introduction, this brewer differs from other single serve machines due to its injection needle. On a typical machine this needle has a single hole at the end, and can only effectively use the grounds below the tip. The iCoffee has two openings on the needle which are higher up, couple this with the SpinBrew technology and you can utilize basically all of your grounds.
Another key feature to this brewer is the Dial-a-Brew knob. With a quick and easy turn you can adjust your brew size in 0.5oz increments from 4oz to 12 oz, with an easy to read digital display on the front.
The Opus also comes with an iCup so you can brew your own grounds whenever you like.
Below is a comparison chart between the Remington iCoffee Opus and the Keurig K550 2.0.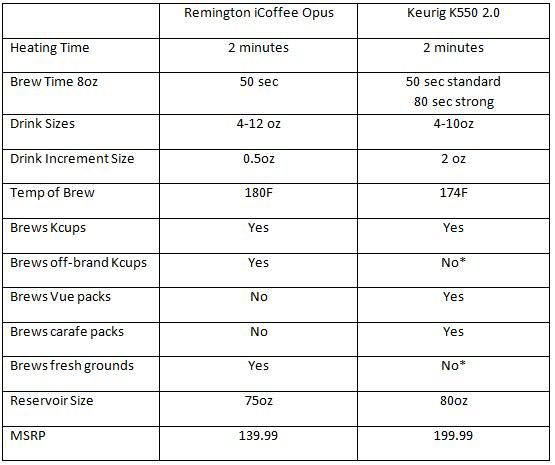 * While Keurig 2.0 machines are DRM locked out of the box there are several hacks to get around this limitation. One such hack is the
Freedom Clip
.