For this review
Crucial
has sent over one of their newest solid state drives, the 256GB MX100. Crucial presently offers three series of SSD - the M500, the M550, and the MX100 - and oddly enough the MX100 series generally fits in between the M500 and M550 when it comes to read/write performance and price. In this review we will see just what you can expect from a drive that Crucial touts as offering "cost-effective mainstream performance".


Before taking a look at the sample provided for review, let's see what Crucial has to say about the 256GB MX100 solid state drive on their
official product page
...
Features and Specifications:
» Brand: Crucial
» Part number: CT256MX100SSD1
» Form Factor: 2.5-inch internal SSD
» Module Size: 256GB
» Warranty: Limited 3-year
» Specs: 550 MB/s Read / 333 MB/s Write
» Series: MX100
» Product Line: Client SSD
» Interface: SATA 6.0Gb/s
» Device Type: Internal Solid State Drive
» Unit Heigth: 7.0mm
» Form Factor: 2.5-inch (7mm)
» Package Content: Crucial Box, 2.5-inch (7mm) SSD, 9.5mm adapter bracket
From the list above we can see that the 256GB MX100 offers read speeds up to 550MB/s and write speeds of up to 333MB/s. While the 550MB/s sounds very good to me, the 333MB/s is a bit on the low side for today's SSD market. As mentioned above, the MX100 falls in between the M500 and M550 in terms of performance. While they all offer read speeds over 500MB/s, at this capacity you can only expect a write speed of 250MB/s with the M500, but you can get up to 500MB/s writes with a M550. Depending on your requirements for write speeds, your budget will have to shift as you consider the different series.
Packaging:
The Crucial MX100 SSD is sold in the compact box shown in the images below. The front of the box confirms the capacity, while a bit more information is provided on the back of the box.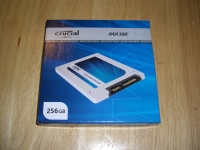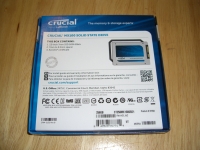 Inside the box you will find the SSD sealed in an anti-static bag, a certificate for a free license of Acronis True Image, and an adaptor to take the SSD from 7mm thick to 9.5mm thick.