Conclusion:
I generally don't start off the conclusion of a review with talk of the price, but it helps set the tone for my opinion on the Camangi WebStation. Searching the web shows that you're limited to pretty much one place to buy a WebStation in the USA...
Amazon.com
. Their price of
$275 (US)
is far less than some other tablet PCs, but I wouldn't call it cheap.
For those considering an eBook reader, but would like their device to do more, the WebStation is an attractively priced alternative. For those who want basic online applications like a web browser, instant messaging, VoIP, and social networking access; the WebStation is again a good choice in lieu of a netbook.


While some will say the lack of Flash support is a big problem, it might be remedied soon for the Android platform. I see one of the biggest problems with the WebStation being its extremely weak support for video. No Flash support factors in here, but even the allowed formats don't play well and greatly reduce the appeal of this device as a personal media player. Sure you have audio and photo support, but video should be a priority considering the 7" screen.
One other key issue to me is that Camangi has created their own apps market, and you can only install apps listed there. Typical apps available to other Android devices do not work, and I did my best to force the issue. While the Camangi marketplace has grown considerably since I started the review, it is still rather small, and there isn't much there that appeals to me.
The bottom line is that while the Camangi WebStation is well built and fairly handy, it lacks in several areas that make it hard to get too excited about it. While some of the issues are operating system specific, others are definitely of Camangi's doing. That said, the variety of useful features coupled with its attractive price lead to the
Camangi
WebStation Android tablet PC earning the Bigbruin.com "Good Value" award.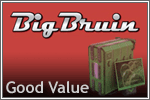 Pros:
» Sleek and stylish housing
» Feels well built
» Well set up as an eBook reader
» Web access via WiFi (or optional 3G dongle)
» Responsive (resistive) touch screen
» Decent bundle of accessories
» Priced at about $275 (US)
Cons:
» Occasionally will not wake up properly from its version of sleep mode.
» Terrible support for video
» No Flash support (yet)
» Supposedly has a GPS module, but no GPS applications installed or available
» Couldn't connect to Windows PC via USB for data transfer
» Stylus can be difficult to remove
» Minimal apps available
» Can not access typical Android Market apps available to other Android devices
» Can only access apps from the rather meager Camangi Marketplace
Please drop by the Bigbruin.com Forum and feel free to post any
comments or questions
.