Conclusion:
There are many models of hard drive docks on the market, and while each one should be able to get the job done efficiently, the
Ineo Technology
I-NA321U+ will definitely do everything you expect and then some. The transfer rates closely matched the transfer rates when the hard drive was attached to the internal SATA connection on the motherboard. The aluminum housing gives the docking station a touch of class, making it look nice sitting on the desk instead of looking like a cheap block of plastic.
What sets this hard drive dock apart is the integrated drive copy function. It was able to copy the data on a failing Seagate hard drive to another drive in the same amount of time as any doing a drag and drop file copy using either the internal SATA connection or putting a drive in the I-NA321U+ and transferring the data over the USB 3.0 connection. The difference is that allowing the I-NA321U+ do a drive copy, I was able to continue using the computer without any impact.


While technically not an issue with the docking station, a soft eject button would be nice to have and make it easier to remove hard drives from the docking station. The models with an eject button allow you to remove a drive simply by pressing the button and lifting the hard drive out of the docking station. Without an eject button it is harder to remove the drive, however the eject button is not necessary for the I-NA321U+ docking station to function great.
The Ineo Technology I-NA321U+ is available at
Newegg.com
for $59.99 with free shipping! It is very well priced compared to other dual-drive docking stations available. A big difference to set the I-NA321U+ apart from the other comparably priced units is that you also get a standalone hard drive copier. When taking the hard drive copying function into account, the price is very appealing.
Given the fast read/write speeds, ease of use and disk cloning capability, the Ineo Technology I-NA321U+ hard drive docking station earns the Bigbruin.com "Recommended" and "Great Idea" awards.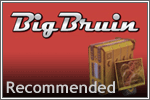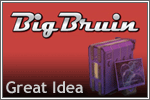 Pros:
» Good transfer rates
» Compatible with up to 3TB SATA III 6Gbps 2.5" and 3.5" drives
» Easy to use
» Aluminum housing is attractive
» Computer-less disk cloning
» Dual hard drive support
Cons:
» No soft eject button
Please drop by the Bigbruin.com Forum and feel free to post any
comments or questions
.