The Basics (Continued):
The docking station has aluminum around the outside, and Ineo has placed their company name on the front of the docking station. Below that is a series of five LEDs... one for power, and four that indicate the drive copy stage (more on this later). On the bottom right are two silver buttons, Reset and Copy.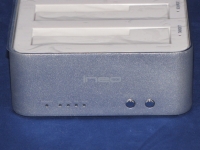 The top of the docking station is white, which looks nice against the aluminum body. There are two slots for hard drives which are compatible with both 2.5" and 3.5" hard drives (or SSDs). In USB mode, it doesn't matter which slot you use. However, when using the integrated drive copy feature, the drives need to be in a specific slot. Ineo Technology has labeled each slot to make sure you know where your source and destination drives belong.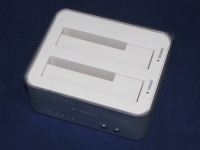 On the back side of the docking station we find the connections for the AC power adapter, and the USB 3.0 cable. In addition, there is a hard power on/off button.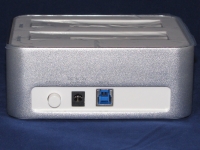 Testing:
The system detailed below was used to test the Ineo Technology I-NA321U+ hard drive docking station:
» AMD 1090T processor
» ASUS Sabertooth 990FX AM3+ motherboard
» ASUS GTX 560Ti graphics card
» Intel 180GB 520 Series solid state drive (boot)
» OCZ 256GB Vertex 4 solid state drive (games)
» Seagate 7200.12 1.5TB hard drive (data)
» Seagate 7200.12 1.0TB hard drive (data)
» Seagate 7200.12 1.0TB hard drive (data)
» 16GB (4x 4GB) Kingston HyperX DDR3 1866MHz memory
» Windows 7 Ultimate 64-Bit operating system
The following standard tests will be run to determine the performance of the docking station.
» CrystalDiskMark 3.0.1 x64
» ATTO Disk Benchmark v2.47
» Disk Clone