Packaging and Accessories:
The packaging for the HAVIK 140 shows plenty of images of the massive cooler with minimal distraction thanks to the stark white appearance of the rest of the box. While the front of the box shows the cooler and lists four key features, the back of the box provides greater detail on the specifications and physical features.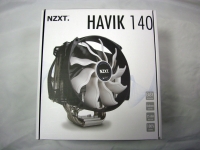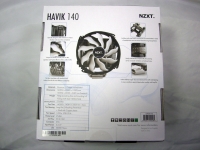 Opening the box reveals an installation guide placed on top of one of the fans, which is nestled snugly into a form fitting foam block. Each fan is well protected in this manner, one stacked on top of the other. To the left of the fan (in the below left image) there is a slim white cardboard box which contains all of the accessories and mounting hardware.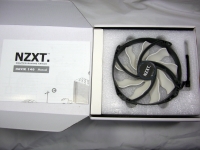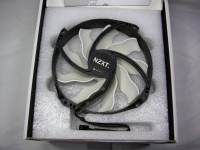 Under the two layers of fans, we find a layer of foam that holds the cooler securely in place. For added protection it is wrapped in plastic. The below right image shows the bulk of the accessories, which includes a 3-pin fan connector Y-adapter, mounting hardware, thermal paste, and some interesting fan mounting 'bands'.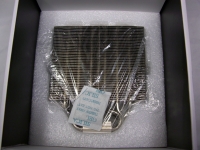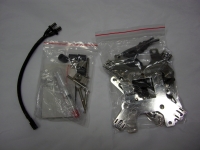 The next two images provide a closer look at some of the accessories. There is mounting hardware for all modern AMD and Intel processors, and the small syringe contains a very thick, grey colored thermal paste. The four black bands shown at the bottom of the below right image are used to mount the fans without tools while also reducing noise from vibrations. The ends are threaded through the bolt holes on the fan and pop into place rather securely. The body of the band is then stretched over the edge of the cooler fins on either side and it provides an impressively easy and secure installation.