Testing (continued):
FutureMark 3DMark06:
Until recently, FutureMark's 3DMark06 was
the
way to get a quick overview of a system's gaming potential. The total score (presented in unitless "Marks") is shown in the table below, along with values for the SM2.0, HDR/SM3.0, and CPU components of the test. The test settings had the cards running at 1280x1024, No AA, and optimal filtering (higher is better).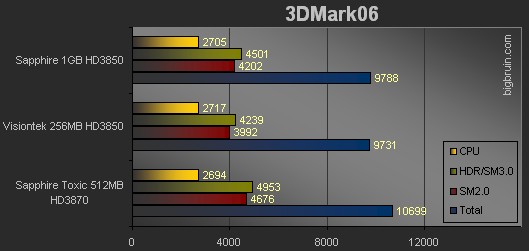 The total score is marginally better on the 1024MB Sapphire card, when compared to the somewhat generic 256MB Visiontek HD3850. However, if you are interested in the SM2.0 and SM3.0 results, you will pick up a few hundred points with the 1024MB card. Moving up to an (overclocked) HD3870 is where things get more interesting, as the total score finally cracks the 10,000 plateau.
FutureMark 3DMark Vantage:
FutureMark's 3DMark Vantage is a newer benchmark developed only for Windows Vista which incorporates DirectX 10 features into the test. The test was configured in "Preformance Mode" with a resolution of 1280x1024. Values for the CPU, GPU, and total score portions of the test are reported below, and higher is better in all cases.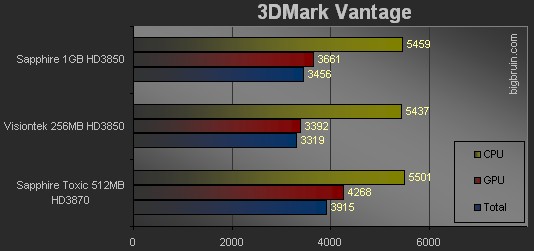 The 1024MB HD3850 from Sapphire outpaces the 256MB HD3850 across the board here, and the total score is 137 Marks (or about 4%) higher.
PassMark Performance Test v6.1:
Performance Test v6.1 offers a suite of tests that can be used to analyze the performance of just about all system components. This review will focus on the gaming portion of the suite, which is referred to as the "3D Graphics Mark" test. Higher numbers are better for this unitless value.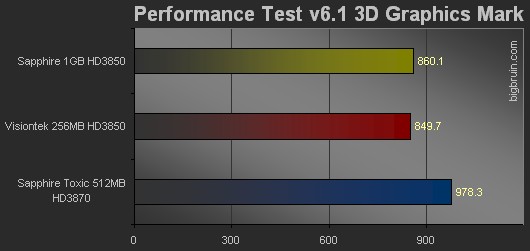 The HD3850 based cards perform similarly, with a slight edge going to the Sapphire version. You have to move up to the HD3870 card in order to see a significant performance boost.