Posted: January 14, 2004
Author: Jason Kohrs
Manufacturer: Innovatek
Source: High Speed PC

Testing:
With all the connections confirmed leak free and the kit fully installed into the case, it was time to see what it could do. As mentioned previously, I first configured the system without the gpu waterblock, to see if its addition would impact the systems performance. To my delight, I achieved the same temperatures with or without the gpu block, and the results are summarized in the following section.
The cpu temperature was the primary concern, and was tested first. The following software/hardware was used in testing the cpu temperature:
• Motherboard Monitor 5.3.4.0 (to acquire cpu and system temperature)
• SiSoft Sandra Max3! (to stress the system and to confirm temperature data)
• Folding@Home 4.0 (to stress the processor)
• Senfu Super Thermometer (to acquire ambient temperature)
With only Motherboard Monitor 5.3.4.0 running, the system was first allowed to idle for 3 days after installation, so that everything could stabilize and a good baseline of temperatures could be recorded. Then, both SiSoft Sandra Max3!'s 'Burn-In Wizard' and Folding@Home were launched in order to stress the cpu and to generate additional heat to be dissipated. For comparison purposes, the stock Intel heatsink fan combination was run through the same test. All phases of the testing were conducted while maintaining an ambient (room) temperature between 20-21 degrees Celsius and a system (case) temperature of 28-30 degrees Celsius.
The screen shot below shows the thermal results acquired from the Innovatek XXS after 11 cycles of SiSoft Sandra's 'Burn-In Wizard', with Folding@Home and Motherboard Monitor 5.3.4.0 running in the background. The test ran for a total of 20 cycles, but as you can see, the cpu thermal results had reached their peak and stabilized after about 7 cycles.
The graph below summarizes the idle and load temperatures of the processor with both the stock heatsink installed, and the Innovatek XXS water cooling kit. As you can see, at default speeds there is a negligible difference, which implies that there isn't much thermal load to overcome. But, when the processor is under a full load, the results are quite different. The stock heatsink lets the processor soar 13.5 degrees, into territory I am not particularly comfortable letting a cpu run. The Innovatek XXS does a much better job, keeping the rise to a modest 6.5 degrees Celsius.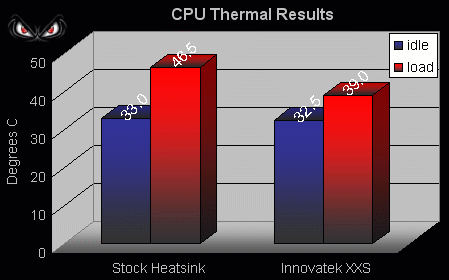 In addition to providing much better cooling performance, the Innovatek XXS produces noticeably less noise than the stock heatsink fan combo. Although I would not call the stock cooler loud by any stretch, the only noise from the water cooling kit is a near inaudible hum from the pump, and a low whir of the radiator fan.
Please read on to page five for more on the Innovatek XXS Water Cooling Kit.. Next
Page 1 | Page 2 | Page 3 | Page 4 | Page 5 | Forum | Review Index