Posted: December 18, 2003
Author: Jason Kohrs
Manufacturer: Nimble
Source: Logic Supply

Nimble Microsystems, Inc. is a relatively young company, founded in Boston, Massachusetts in June 1999. According to their website, "the company focuses on both RISC and SISC based technology and delivers enabling technology for the Post-PC era." But how does that lead us to a product such as the Nimble V5?
RISC (Reduced Instruction Set Computing) refers to a chip, such as the embedded VIA processor in the Nimble V5, that requires less instructions to perform the same tasks as a CISC (Complex Instruction Set Computing) chip, such as a Intel Pentium processor. The other acronym Nimble focuses on, SISC (Second Interpreter of Scheme Code), refers to a "Java-based interpreter of the algorithmic language Scheme. It uses modern interpretation techniques and handily outperforms all existing Java interpreters (often by more than an order of magnitude)."
If that is too much geek-speak for you, the main idea is to use these technologies to provide a compact device that requires less power, generates less heat and noise, and can process information efficiently. With this background information, Nimble intends to use products such as the V5 to "provide affordable enabling technologies and products for the Post-PC era and become a premiere computing and communications platform for smart electronic devices." Post-PC era? That's right, Nimble classifies the V5 as a piece of consumer electronics, and not a personal computer, despite the internals.
The animated image below provides a quick look at the Nimble V5 (provided for review by Logic Supply), and a closer look will be provided after taking a look at what makes the V5 tick. Miniature is a good word to describe the V5, as it measures a mere 7.7" tall, 2.1" wide, and 7.7" deep. Inside the compact silver housing one finds such key components as a 733 MHz VIA processor, 256MB PC2100 DDR memory, and a 30GB hard drive. A complete list of specifications is provided below…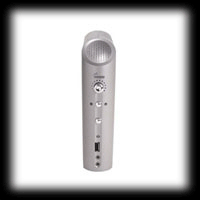 Specifications (as taken from the Logic Supply website):
• CPU / Chipset: VIA C3 Eden 733MHz
• Memory: 256MB DDR266 SODIMM (expandable to 512MB)
• Hard Drive: 30GB
• Display Support: 1280x1024 maximum selectable resolution and up to 32-bit color
• Audio: AC 97 compatible, Built-in Microphone,3W Amplifier, 4Ohm speaker, 3.5mm stereo jack x 2 (Ear/Mic Jack)
• Front Buttons: V5/PC switch button, Two Channels indicator, Volume Control Knob, Mic mute Button
• Status Indicator: V5 channel (Blue); PC channel (Orange)
• Power Output: 18V DC, 3.4A
• Input: Auto-sensing 100-240VAC, 50-60Hz Universal
• I/O ports: USB (2.0) x 4, Ethernet Port x 2, PS/2 x 4, VGA x 2 Network Connectivity IEEE 802.3 10/100BaseT x 2 IEEE 802.11
• Wireless PCMCIA
• Operation System: Windows XP Home Edition
• Dimensions: 5.2 x 19.5 x 19.5 (cm) (W x D x H) 2" x 7.7" x 7.7" (in)
• Expansion Slot: PCMCIA Type II slot x1
• Weight: 2.2lbs/1.0kg
• Operation Environment Temperature: 32F to 96.8F (0C to 36C)
• Humidity: 20% to 80% (non-condensation)
• Accessories: Power adapter, Ethernet Cable, KVM cable, User Manual
• Regulatory Approvals: FCC, UL, CE
Taking a look at the specifications shows that you have plenty of memory, plenty of disk space, but perhaps the same can't be said for cpu power. The VIA C3 processors may not be able compete in the speed war that AMD and Intel are waging, but their low power consumption processors require minimal cooling, making them ideal for use where you might not need 3.0 Ghz.
Another point to take from the list above is the reference to "Wireless PCMCIA". Although the device has a PCMCIA slot, there are no provisions provided for wireless networking, but it is obviously one of the many PCMCIA devices one could purchase separately.
Please read on to page two for the physical features of the Nimble V5... Next
Page 1 | Page 2 | Page 3 | Page 4 | Page 5 | Page 6 | Forum | Review Index