Posted: March 08, 2004
Author: Matt Bunnell
Manufacturer: Cooler Master
Source: Jab-Tech

Cooler Master is a name that is well known in the Geek com... I mean the Enthusiasts community. Cooler Master has a history of making thermal solutions for the PC and Server markets. As their web site states:
ďSince its foundation in 1992, Cooler Master has put much effort in the R&D, manufacturing and marketing of heat sinks for computers. The Company is now a supplier of an extensive array of heat sinks. We have cooperated with Intel and AMD in developing CPU heat sinks and both companies have certified and recommended our products to other players. In addition, our CPU heat sinks are applied and approved by reputable computer companies such as IBM, HP, Gateway, NEC, Packard, Compaq, Fujitsu and Siemens. Our product line incorporates heat sinks for CPU, chips, and hard disks. We also produce case fans, system cases, solutions to industrial heat dissipation and other peripherals.Ē
Itís that last sentence, case fans & system cases that interest us today. Today we take a look at Cooler Masterís new Centurion 2 CAC-TO2-UW case, provided to BigBruin.Com by Jab-Tech.
Here are the specifications as ripped from the Cooler Master web site: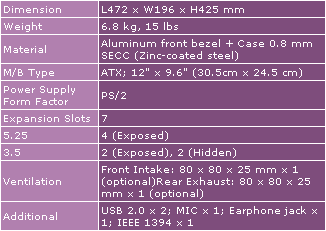 Inspection:
The Cooler Master Centurion 2 case arrived via UPS from our friends at Jab-Tech in good condition. Only some minor marks were visible on the carton as shown below left and right. The graphics on the case are a bit low key, nothing real flashy. The side panel gives a description of its features.
The inside packaging is pretty much what you would expect for a case. Plastic bag wrapped and supported on both ends with Styrofoam panels as in the shot below.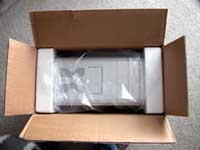 I was a little surprised to find some scuff marks on the top panel shown below left and a small bend in the side panel shown on the right. Iím not too sure how these blemishes came to be on this case, but maybe Cooler Master should look at its packaging apparatus. (The bend on the right side panel does not hinder/interfere with the workings of the panel.)
Continuing around to the back of the case, at the bottom for the expansion slots we find that Cooler Master has included a cover over the screws that secure the PCI cards to the case as shown below left. Still at the back, on the top side we find the blank for the I/O plate as shown on the right. This is a fairly standard plate that snaps out easily, to be replaced by your motherboardís specific I/O plate. You can also see the hole for the PSU and the mounting position for an exhaust fan. Those holes for the fan airflow REALLY need to be opened up.
Please read on to page two for more on the Cooler Master Centurion 2 Case... Next
Page 1 | Page 2 | Page 3 | Forum | Review Index