Posted: March 08, 2004
Author: Matt Bunnell
Manufacturer: Cooler Master
Source: Jab-Tech

The expansion slots have a little strip of metal screwed in over them for some reason, shown below left. This cover needs to be removed and the blanks need to be bent back and forth before they snap off. (I would suggest taking a little time and think of which slots to remove before you install your motherboard. Your motherboard may have some components that might interfere with the clean removal, if done later.) The PSU Section on the Centurion 2 case has a small ledge for the power supply to rest on, shown below right.
Installation:
The bag of screws has more than enough stand off's and various size screws for several case's. As you can see in the photo below left with the mother board in place, the Centurion 2 case has ample room to get around in. The only thing left to be installed are the IDE cables. The photo on the right shows the extra power supply lines that are not needed have been routed through a slot in the Centurion 2 case, ready to be taped down and out of the way. Good cable management helps insure an unobstructed airflow in the main compartment.
So, with everything in place and wired up, I push the power switch. The Cooler Master Centurion 2 case has a nice blue glow for the power on and the activity lights as shown below. After running Folding @ Home for a little while, the case and CPU temps rose a bit higher than I would have liked. I added a 2nd fan (exhaust) to help move some air around and the temps did lower a bit.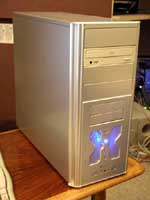 Conclusion:
The Cooler Master Centurion 2 case should work very well in a workstation environment with no problems. It is a light weight case that is very easy to work with. It has no sharp edges to get cut on (until you snap off an expansion slot cover and even that is well out of the way). I think Cooler Master has made a very stylish case with the Centurion 2.
However, for anyone that wants to take their computer system to the next level (read: Overclock), then you should be prepared to do some modding. I would suggest at least opening up the fan areas, add a side intake and maybe a top blow hole.
Price/Value:
The Cooler Master Centurion 2 case is available from Jab-Tech for $54.95 without a power supply and only one (intake) fan. Compared to lesser cases available around the web, the price is quite competitive, and the Cooler Master reputation should add to that appeal.
I rate the Cooler Master Centurion 2 case 4 out of 5 stars, and would recommend this case to anyone building a workstation or interested in modifying it.
Final Rating (4 out of 5 stars):





Pros:
• Very stylish
• Convenient front ports (USB, Headphones…)
• Light weight
• Easy and roomy to work with
• Innovative design (1 thumb screw to open it up)
• Inexpensive
Cons:
• Not enough airflow
• Not enough airflow
• Not enough airflow
Special thanks to Jab-Tech for providing the Cooler Master Centurion 2 PC Case to BigBruin.Com for review!
Please drop by the BigBruin.Com forum and feel free to discuss this review.
Page 1 | Page 2 | Page 3 | Forum | Review Index