Posted: March 21, 2004
Author: Bill Lepse
Manufacturer: Audiotrak
Source: VIA

As home theatre systems have evolved, so too have the demands on PC's. For a few years now consumers have been able to purchase 7.1 receivers, but just recently affordable 7.1 sound cards have become available. With the growing popularity and demands of new audio/video formats, there is also a growing requirement for quality sound cards to get the most out of them. In fact, most manufacturers are spec'ing their new machines with multi-channel sound cards to create a more realistic environment for the user. With the power these computers have, it should be no surprise that more and more people, including myself, are using them as media centers.
Recently an Audiotrak Prodigy 7.1 sound card was provided for me to review by VIA. Before I go into the details of this card, let me describe my system. I have my PC (as described below) sending both the audio and video signals to an Onkyo 575X receiver, this receiver is used to power a Polk Audio RM6500 home theatre speaker system and the video signal goes to a 36" Toshiba TV.
• ECS K7S5A motherboard
• AMD 1.2GHz Athlon
• 256MB OCZ 2700-DDR
• Lite-On DVD drive
• Leadtek GeForce 2 MX400 with TV out
• Windows XP Professional w/ SP1
• Audiotrak Prodigy 7.1 sound card (Previously SB Live! 5.1)
Audiotrak is the consumer products division of Ego Systems Incorporated, and has been producing quality sound cards since 2000. Prominently shown on the packaging for the Prodigy 7.1 is their self proclaimed title of "The Ultimate 192kHz High Definition 7.1 Sound Card." These claims are always suspect, but I must admit this card does have an impressive list of specs and features as shown below...

• High-fidelity 24bit 192 kHz D/A converter; 106 dB Dynamic range
• High-fidelity 24bit 96kHz A/D converter; 102dB Dynamic range
• 24bit 96 kHz Digital Coaxial Input and Output
• Analog 2 In / 8 Out; -10 dBV unbalanced 1/8" (3.5mm) mono and stereo input and 4 x stereo -10 dBV unbalanced 1/8" (3.5mm) output
• 2 channel recording and 8 channel playback at the same time
• Supports multiple sampling rates: 44.1 kHz up to 192 kHz
• Full Duplex - Simultaneous record/playback
• Uses 32bit PCI slot: PCI bus-mastering support
• Microphone preamp with +5V phantom power
• Headphone amp
• Supports the E-WDM driver: WDM and ASIO 2.0, Direct KS support for SONAR, OS: Microsoft Windows XP/2000/ME/98SE
• Experience High-Fidelity Surround Sound up to 7.1
• Transfer up to 24-bit 96 kHz Pure Audio with Coaxial Digital Input and Output
• Controllable Extended Input Connectors (Line, CD, Aux, and CD Digital) on Board
• 24-bit, 8 Channel 192 kHz Playback and 96 kHz Recording
• Experience Stereo Audio Sources with Expanded 7.1 Channel Surround Sound
• Emulate Multi-Channel Surround Sound with SRS TruSurround XT with Enhanced Bass and Dialog Clarity
• Expand Audio Versatility with Advanced NSP featuring E-WDM and DirectWIRE
• Plug In with Analog Inputs (2) and Outputs (8)
• Independent Surround Sound Channel Volume Control
• Enjoy High-Fidelity with Integrated Headphone Amp and Microphone
• Pass Pure Audio Signals to Dolby Digital and DTS Decoders
• Support Windows Media 9 with 24-bit, 96 kHz 6-Channel Audio
• Support Game Surround Sound APIs such as EAX 2.0 and A3D
Not detailed in the list of specifications above is the fact that the Prodigy is based on the VIA Vinyl Envy24HT Audio Controller, which explains why VIA is the sponsor of this review. VIA is well known for their Mini ITX motherboards and motherboard chipsets, but they also produce audio chipsets, and according to a representative of VIA, "The Envy24HT is a premium Audio solution for the PC enabling 24/192kHz resolution analog and digital I/Os for hi-performance consumer soundcards."
The Audiotrak Prodigy is sold in the packaging pictured in the four views below. As you can see, the various panels are covered in specification, features, and other information to educate a potential buyer...
Audiotrak includes with this card a well-written user's manual and a CD that includes several software titles, including; InterVideo's WinDVD4, Emersys' Maven3D Pro, FASoft's nTrackStudio and SpinAudio's Native Sound Processor. In addition, there are a few trial versions of other titles. Because the card is designed to have low CPU resource dependability the minimum requirements are a non-issue. This card requires a PIII CPU, an Intel/Via based motherboard, 128MB RAM, Microsoft Windows 98SE/ME/2000/XP OS' and of course one PCI slot.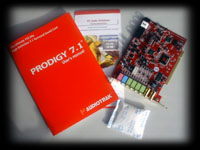 Please read on to page two for more on the Audiotrak Prodigy 7.1 Channel Soundcard... Next
Page 1 | Page 2 | Page 3 | Forum | Review Index