Posted: November 08, 2003
Author: Bill Lepse
Manufacturer: PC Toys
Sponsor: N/A

PC Toys has not been around for very long, but you would never know that by looking at their impressive list of products. They have everything from power supplies and cases to cables; but they specialize in items that optimize your personal computer, and make it just that personal. The product I picked up was the SystemMaxx Multifunction Panel, which adds digital display of three temperatures, control of fan speed and pass thru of USB 2.0 and Firewire.
I chose this product due to my non-conventional PC set up. My PC is in an entertainment center, and connected to my home A/V receiver. Here are the key components in my PC:
4AMD Athlon Thunderbird 1.2 GHz processor
4ECS K7S5A Motherboard
4Koutech Firewire card
Because the computer is used next to other heat producing electronics cooling is always an issue; but with cooling comes fan noise. This is not a problem when you are listening to loud music, but when watching recorded TV shows or movies the noise is not a welcome addition to the soundtrack. Also, since this computer is built into the entertainment center, access to connections on the back is not easy and dangling wires are unsightly. The final reason was the LCD display for the temperatures. While I do not overclock, the heat from other components can be excessive and temperature monitoring is necessary. I use MotherBoard Monitor but the temperatures are often hard to read on the TV used for display. So with all of these hopes for performance and optimization; does the panel perform as expected? Here is what I found...
When I received the panel I was immediately impressed. The box detailed the contents and features clearly as shown in the pictures below, with no signs of Engrish! The manual was equally easy to understand and insures proper setup.
Specifications as taken from the PC Toys website:
4Adjustable CPU fan speed controller
4System temperature monitoring switch and LCD display
4Audio Alarm Warning
42 USB ports and 1 IEEE1394 (Firewire) port
43 Stylish interchangeable faceplates
4Dimensions: 148.5 x 41.5 x 62.0 mm
4Rated Voltage: 5V ~ 12V
4Input Power: 5V less than 0.5W
4Sensor Temperature Range: 15C ~ 90C
4Panel Temperature Range: 15C ~ 70C
Setup is a breeze. As you can see in the picture below, the kit comes with (3) temperature sensors (each end marked with CPU, HDD or Case - though you can place them wherever you want), (2) CPU fan cables, (1) power cable, USB cable, Firewire cable, screws, tape and alternate faceplate colors.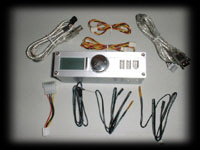 The controller itself has the locations for each wire clearly marked as shown below.
Please read on to page two for more on the PC Toys SystemMaxx... Next.
Page 1 | Page 2 | Forum | Review Index