Posted: December 29, 2003
Author: Matt Bunnell
Manufacturer: Seasonic
Sponsor: Seasonic

Seasonic... Who are they and why do you need to know?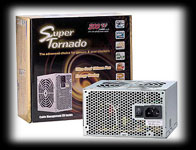 Who?
Sea Sonic Electronics Co., Ltd. is dedicated to:
• Products: Design the edge cutting products to lead the market.
• Marketing: Provide finest level of customized services
• Services: Maximum flexibility to meet our customers' needs
• Finance: company with a strong balance sheet.
Why?
Since the incorporation of Sea Sonic Electronics Co., Ltd. in 1975, we have maintained our focus on research and development and the production of quality power conversion products.
Quality power conversion products. That's what I'm talking about! Today we take a look at the Seasonic Super Tornado 400W PSU. "The advanced choice for gamers and over-clockers."
The innovative design and quality build of this power supply is "Top notch"! During the testing of this PSU, I became VERY impressed with its performance. But, I'm getting ahead of myself. Let's take a look at the package. The Seasonic Super Tornado comes in a very colorful and descriptive box. The picture below left shows the box top and below right shows the bottom. All the panels on the box explain the various features of the Seasonic Super Tornado.
The four side panels not shown further explain the innovations built into this power supply including the "Dr.Cable" cable management kit that's included.
Inside the box you'll find the Super Tornado PSU, power cable, mounting screws, manual, warranty card and the Dr. Cable kit all pictured below. Speaking of warranty, the Seasonic Super Tornado comes with a 3 year warranty and listed on the warranty card is a 24 hour web address and a toll free phone number (normal business hours).

The Super Tornado has plenty of power connectors (as shown below), eight 4-pin Molex and two floppy connectors (on 3 cable leads), one 4-pin P4 connector, one AUX power connector, of course the 20 pin ATX power, and one cooling fan power connectors. Despite the image below (taken from the Seasonic site) showing that there are seven 4-pin Molex connectors, you can see in the next image that there are actually 8.
The leads are long enough to work with the largest of computer cases.

Two of the innovations Seasonic uses in the Super Tornado are a Superred fan shown below left, rated at over 61 CFM @ 32dB and a honeycomb grill shown below right that allows more air to pass through helping your system operate cooler and quieter.
The quality and workmanship that goes into the Seasonic Super Tornado can be seen in the following pictures. The heatsinks shown below left are placed perfectly to take advantage of the 120mm fans cooling capabilities. While the large capacitor, below center, and the coils, below right also reap this benefit.
As shown below, I think the Seasonic Super Tornado is laid out very well in form and function.

Please read on to page 2 for more on the Seasonic Super Tornado 400W PSU... Next
Page 1 | Page 2 | Forum | Review Index