Posted: January 20, 2004
Author: Brian Anderson
Manufacturer: PC Power & Cooling
Source: PC Power & Cooling

Performance:
OK, great... I have shown this is a nice looking, heavy PSU with lots of stuff in it. However, those features alone do not justify the almost $200 price tag. Lucky for us, these guys knew that. Let us take a look at how this baby performed when put to the test on a dual processor AMD system with plenty of drives and expansion cards.
Test System:
• Tyan Tiger MP Motherboard
• Dual AMD Athlon MP 1800+
• 512MB ECC DDR PC2100
• Tyan G9800-M ATI Radeon 9800 Pro based video card
• SoundBlaster Live! X-Gamer Soundcard
• EdiMax 10/100/1000 NIC
• Sil680A IDE RAID controller
• 2 – Maxtor ATA133 60GB HDD's in RAID 0
• 1 – IBM ATA100 60GB HDD
• 1 – CDR Drive
• 1 – 48x16x48 CDRW
• Windows XP Professional
Testing Software:
• SiSoft Sandra 2002
• Aquamark 3
Comparison Power Supply:
• Enermax 431W
For these tests, I monitored the results from both a digital multi-meter reading power from the ATX connector going to the motherboard, and from MotherBoard Monitor 5 software (where possible). I used the best quality power supply I had to run head-to-head with the 510 ATX-Deluxe, which is my trusty Enermax 431W. I have always considered Enermax to be one of the best PSU makers for PC's out there, so I figured it would be a great competition.
Let us take a look at what MBM 5 had to say: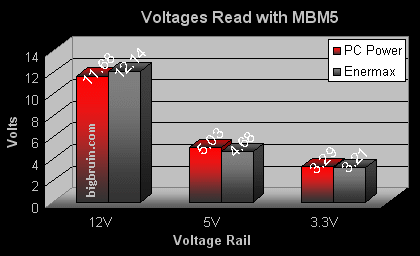 For this test I used Sandra running both CPU's at 100%. I ran it through 10 loops prior to reading the results to make sure that all components were all nice and toasty warm. As we can see here the competition looks pretty close here. On both the +3.3v and +5.0 rails the PC Power & Cooling 510 ATX-Deluxe comes out a little ahead, however on the +12 rail the Enermax pulls a little ahead.
Now let's take a look at the multi-meter results running both Sandra (using the same methodology as above) and Aquamark 3.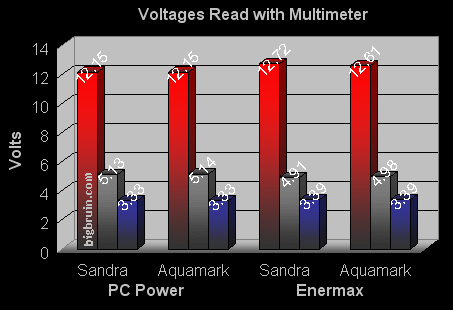 Again we see pretty much the same results with the PC Power & Cooling 510 ATX-Deluxe coming in on top on the +3.3V and +5V rails, and the Enermax coming in on top on the +12V
However, there are a few very important facts missing from these graphs. The first is the voltage variation. For both the MBM 5 & multi-meter graphs I took the "average" voltage from the Enermax. I was seeing fluctuations of up to .10 - .12 volts on all rails. However on the 510 ATX-Deluxe, these are the EXACT numbers that were produced! There was 0 fluctuation on any of the rails. It also didn't matter to the 510 ATX-Deluxe if I put a load on the system or not, the readings were the same (which is why I have not charted idle results). And as most of us know on most PSU's they produce different voltages under load then they do when the system is idle.
The other important fact missing is 3Dmark2003/2001SE. This was the original software I was trying to use to put the system under load. However I was unable to get a complete test when I was using the Enermax. Every time it would get to the nature game my hard drives would start clicking and the system would lock up or reboot (I had to boot to the XP CD and repair the HDD once). Yet as soon as I put the PC Power & Cooling 510 ATX-Deluxe in, these tests would complete without a problem. It seems that the nature game put such a load on the video card that it pulled too much wattage from the system and the hard drives were starved for power. Once again, I have to say… WOW!! And we have to ask ourselves was it the extra 79 watts that let the system run successfully, or was it the absolute unwavering voltage that the PC Power & Cooling model produced? Very possibly it was the combination of the two.
Warranty:
Just to step things up a notch, the guys from PC Power & Cooling have included a 5 year limited warranty on this PSU. OK, once again I have to say it… WOW!!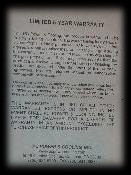 Conclusion:
When I am given a product to review, I try my best to find flaws in the product because every product has them. Was I able to find one with the Turbo-Cool 510?? Well... Sorta... but not really... The only flaw I can say is the lack of a 2nd fan. But then again, I don't really consider this a flaw. Simply because the inside of this PSU has no room for one; and to put one on the outside would look cheesy and really detract from the beauty of this unit. So while I wish they had one, I understand why it's not there.
The 510 ATX-Deluxe has immortalized PC Power & Cooling in my mind. This power supply is simply leaps and bounds above the rest of the field. While some may argue that it is too expensive at over $190 (US), I would argue that it is fairly priced. After all, would you expect to pay the same (or less) for a BMW as you would for a Saturn? Both might be very good vehicles, but the quality, attention to detail, and warranty puts the 510 ATX-Deluxe in a completely different league than any other PSU I have used.
If you have demanding power needs that include lots of drives, high performance video cards, multiple CPU's or just want the most stable power for your computer then save up your pennies and get yourself a PC Power & Cooling 510 ATX-Deluxe.
I cannot believe it, but I am forced to give this unit a perfect 5 star rating!! This product is a MUST have!!

Pros:
• Attractive Look
• Braided Cables
• Perfect Cable Lengths
• Plenty of power connectors
• SATA power connectors
• Unwavering voltage
• Quality construction
• 5 year warranty
Cons:
• None
Special Thanks to PC Power & Cooling for providing the 510 ATX-Deluxe PSU to BigBruin.Com for review!
Please drop by the BigBruin.Com forum and feel free to discuss this review.
Page 1 | Page 2 | Forum | Review Index