Posted: January 20, 2004
Author: Brian Anderson
Manufacturer: PC Power & Cooling
Source: PC Power & Cooling

Today we are taking a look that the PC Power & Cooling Turbo-Cool 510 ATX-Deluxe Power Supply (PSU). PC Power & Cooling may not be a household name to you, but they have been selling power supply units since 1986, one year after the business was launched in a San Diego warehouse. For those familiar with PC Power & Cooling, they know the high quality found in each product, and for those unfamiliar, this review may serve as an introduction.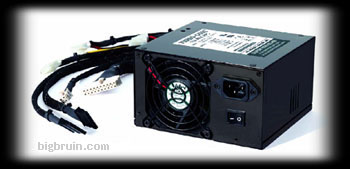 The 510 ATX-Deluxe is shipped in a rather generic cardboard box which contains the items pictured below. (A brochure, the power supply, the warranty document, the power cord, and 4 mounting screws).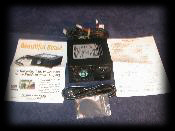 Let's take a look at the specifications as taken from their web site: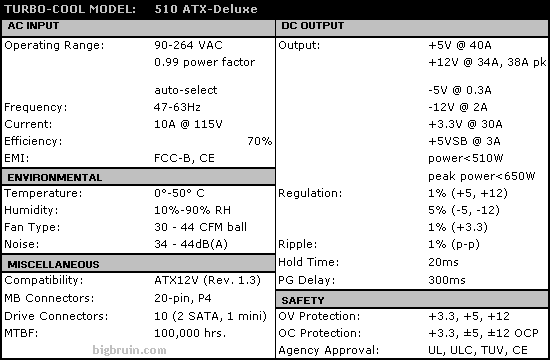 As you can see, this thing packs a wallop! With a Peak Power of <650W! If you take a look at the specifications of many cheaper PSU's you will see that they are rated by their peak power, not their continuous power output. You also see the Regulation (variance) is very small. Most PC PSU's have between a 5% - 10% variation, while this monster has 1% on the +3.3, +5, and +12 rails. WOW!
Let me first get this out of the way, and to set the tone for the rest of this review. I am in love with this PSU!! While I have always used high quality PSU's in all of my systems, I have never used one of this quality. OK, enough of my drooling on the unit, let's get down to the nuts and bolts of this review.
First Look:
When I first remove this beast from its box I about hurt myself. This unit is HEAVY. I put it on a scale and the unit weighted over 4 ½ lbs, not including the cabling weight. While weight alone doesn't determine the quality of a PSU, it is generally a VERY good indicator. If you pick up one of those $20 450-Watt PSU, you will find it doesn't weigh much more than your mouse. So let's take a look on the inside of this unit to see why it weights so much.
The first thing you will notice this thing is packed! With heatsinks, capacitors, electronics, and all kinds of stuff. Again... WOW! The only thing you won't notice is a 2nd fan on either the back of the unit, or on the bottom. Unfortunately, because this is missing it could cause overheating issues in some systems. However, let's be honest... If you are paying the money to get one of these, then you are not an average user. Your system probably has enough airflow going through it that you almost have to bolt it down to keep it from flying away, or you're using a water or heat-exchange cooling system. So this really should not present a significant problem for you.
For those of you with black cases, or windows in your case, you will be happy to know they have given this unit a very attractive black finish. It should fit in nicely with any case, and for you LANer's out there, it will look "purdy" when you are showing off the insides of your computer.
Connectors:
The Turbo-Cool 510 comes with a wide array of power connectors for you to use. Basically, if it doesn't have it, you don't need it. All of the cables are braided to make them easier to route, and much more attractive in a system with a window. I also have to give these guys more kudos for the length of their cables. It's like they read my mind, the cables are not too long, nor are they too short.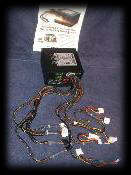 It comes with 5 Molex connectors for hooking up Hard drives, CD/DVD drives, and such. It has 2 "floppy" connectors as well. PC Power & Cooling really paid attention to detail on this unit. They have a Molex to floppy converter on one of the Molex connectors allowing you to use it either way. I personally found this useful because I was able to use that floppy connector to hook up my Radeon 9800 Pro card instead of having to use the cable included with the card. This keeps my case looking a little neater and cleaner.
They also include the standard ATX motherboard connector, and the P4 connector. As a testament to their forward thinking they have also included 2 SATA power connectors allowing you to connect 2 SATA drives with out needing any additional connectors.
Please read on to page two for more on the PC Power & Cooling 510 ATX-Deluxe PSU.. Next
Page 1 | Page 2 | Forum | Review Index